Denver Police Served Temporary Restraining Order Amid Nationwide Protest Repression
Denver, CO – Late in the evening on June 5, 2020, Federal District Judge R. Brooke Jackson (PDF) ruled against the city and county of Denver in a class-action lawsuit filed on June 4. A Temporary Restraining Order (TRO) was put into place applying to the Denver Police Department (DPD), as well as, any other departments assisting them.
In the past two weeks, thousands of Colorado residents have been rallying and marching near the capitol building in solidarity with George Floyd, who was murdered by now-fired police officer Derek Chauvin. During these protests, even amid calm moments in the day when children are out, DPD has been firing tear gas and other less-lethal projectiles into the crowds. Over 300 people were arrested in Denver since May 28.
These instances of law enforcement violence toward protesters opposing such violence are not unique to Denver.
Unicorn Riot has been on the ground covering the uprising in the Twin Cities and Philadelphia as well. Members of our media organization were shot by law enforcement with projectiles, were tear gassed, and were beat with batons. While conducting an interview, we documented state troopers assault a local small business-owner along with our reporters.
In Washington, D.C., protesters convening in a plaza were tear-gassed so that President Trump could walk through the area to get his picture taken outside of St. John's Episcopal Church.
Flashbangs, tear gas, and pepper spray are descending onto the solidarity with #GeorgeFloyd protesters in #Denver outside the #Colorado State Capitol pic.twitter.com/NgFGi7kuc4

— Unicorn Riot (@UR_Ninja) May 29, 2020
Those are only two examples in a sea of law enforcement abuse during recent protests. Family members of victims of police violence and over 600 organizations from around the world sent a letter on June 8, 2020 to the members of the United Nations Human Rights Council to urge the convening of "a Special Session on the situation of human rights in the United States in order to respond to the unfolding grave human rights crisis borne out of the repression of nationwide protests."
The letter goes on to state:
"There is serious concern that the tear gas and police-induced havoc will obscure the legitimate passion of these demonstrations. The voices of the demonstrators must be heard. Their demand is that the endemic racism, hatred, fear and disparity finally be confronted."
The class-action lawsuit in Denver was filed on behalf of four residents who say their first and fourth amendment rights to freedom of speech and freedom from excessive force were violated.
A section of the lawsuit mentions how on multiple occasions the police fired on journalists and street medics. In his written order, Judge R. Brooke Jackson asserted that law enforcement was indeed violating the constitution:
"Additionally, plaintiffs allege that officers specifically aimed at heads and groins, causing broken facial bones and ruptured testicles. These are peaceful demonstrators, journalists, and medics who have been targeted with extreme tactics meant to suppress riots, not to suppress demonstrations…

Officers used physical weapons and chemical agents to prevent not just peaceful demonstration, but also the media's ability to document the demonstrations and plaintiffs' and third parties' ability to offer aid to demonstrators."
Here are some tweets from the first week of protests in Denver of members of the media being targeted:
I went back to where I was hit and found this. This may or may not be the round that hit me. But it's right where I was standing. I'm clearly with a photographer and wearing a 9NEWS hat. pic.twitter.com/42BC8jrxLz

— Jeremy Jojola (@jeremyjojola) May 31, 2020
Were some Denver officers overeager last night? Sounds like it, in this case: @DenverPost photographer @HyoungChang, who was out of the way on the sidewalk — obviously a journo — was hit twice by pepper balls. One tore his coat and gashed his elbow. https://t.co/S7YG6y70pO

— Jon Murray (@JonMurray) May 29, 2020
Police just fired off paintballs and tear gas.

Our photographer got hit four time and our camera got hit.

Luckily, I ducked and avoided getting struck.#denverprotests @DenverChannel pic.twitter.com/8KstNp39HS

— adigtv (@AdiGTV) May 30, 2020

On June 1, the Colorado Freedom of Information Coalition and other journalism groups wrote a letter to leaders of the Denver Department of Public Safety, DPD, the Colorado State Patrol, the Colorado National Guard, Denver Mayor Hancock, and Gov. Jared Polis.
The letter states that journalists have been targeted, shares some of the incidents, and reminds the state workers and officials of the first amendment:
"Journalists know they may find themselves in harm's way when they cover volatile events such as the demonstrations we have seen in Denver over the past several days. But it is inexcusable – and a violation of the journalists' constitutional rights – for law enforcement officers to single them out for attack simply for doing their jobs in chronicling these events…

As a reminder, the Denver Police Department agreed to get enhanced First Amendment training for its officers after Colorado Independent Editor Susan Greene was wrongfully handcuffed and detained while photographing officers in 2018. The department also paid $50,000 to settle that case."
The DPD took to twitter to assure the public they received the TRO and that they would follow it. However, they were seeking modifications to the order "that would account for limitations on staffing and body-worn cameras so the directions can be operationalized."
(1/2) #ALERT #Denver – A federal judge issued a Temporary Restraining Order (TRO) clarifying #DPD use of non-lethal dispersant devices. In the meantime, we will comply with the judge's directions, many of which are already in line with our community-consulted Use of Force Policy.

— Denver Police Dept. (@DenverPolice) June 6, 2020
(2/2) #ALERT #Denver – We are asking for modifications to the Order that would account for limitations on staffing and body-worn cameras so the directions can be operationalized. #DPD

— Denver Police Dept. (@DenverPolice) June 6, 2020
On Saturday evening, Judge R. Brooke Jackson agreed to modifying the order (PDF) so that lieutenants, not captains, can make the decision on the ground "to approve the use of chemical weapons or projectiles in response to specific acts of violence or destruction of property that the command officer has personally witnessed."
In the Public Interest section of his order, Judge R. Brooke Jackson wrote that with the TRO in place, "the most likely potential harm is an increase in property damage." Therefore, in his opinion, if law enforcement is not harming protesters while they are simply at a rally or marching, then that may entice some of the protesters to damage property.
However, he goes on to say that "the threat to physical safety and free speech outweighs the threat to property."

Historically during uprisings of oppressed and disenfranchised peoples, specifically during the civil rights movement in the 50s and 60s, the idea of "outside agitators" and the dichotomy of "peaceful protesters" versus "violent protesters" have been employed to delegitimize mass movements and create divisions.
The government, with the help of mainstream media, manipulate the narrative in order to protect the concept that the current institutions and laws are necessary for our society to function; and therefore attempt to quell grassroots people power.
In July 2016, after protesters in Saint Paul, MN took over Interstate 94 demanding justice for Philando Castille, Unicorn Riot wrote about the tensions that can arise during protests when the people involved have different politics and different expectations of what may develop from a grieving and emotionally angry crowd.
In Denver specifically, Mayor Hancock, the DPD, and a newly formed group called We Are Love Denver, have been perpetuating the idea that protesters who are calm and have more passive tactics are "successful" and worthy of praise and support. On the other hand, the protesters with more direct and confrontational approaches are "needless," "senseless," "reckless," and "selfish."
This is not who we are, and calmer heads must prevail. Our police officers have a sworn duty to maintain everyone's safety – and they will. People are crying out to be heard, but this violent distraction only divides us.

— Michael B. Hancock (@MayorHancock) May 30, 2020
We saw them, we heard them, and they respected their cause. Unfortunately, another element with selfish motives and reckless intentions infiltrated tonight's demonstration and incited violence with homemade explosives, rocks, bottles, graffiti and vandalism.

— Michael B. Hancock (@MayorHancock) May 30, 2020
Thank You #Denver for voicing your opinion in a safe and peaceful way today. We are grateful to have amazing residents. pic.twitter.com/oQscL7GcCN

— Denver Police Dept. (@DenverPolice) May 29, 2020
We @DenverPolice @DenSafetyDept want to thank the peaceful protesters who just finished walking through the downtown area letting their voices be heard for George Floyd. They are safely back at the State Capitol. https://t.co/kbQIHk3X2J pic.twitter.com/kQsUs1LZeY

— Denver Police Dept. (@DenverPolice) May 30, 2020

The DPD also tweeted a few times showcasing the weapons they confiscated from the "agitators [who] are hijacking the memory and life of George Floyd."
Unfortunately the actions of a few agitators are hijacking the memory and life of George Floyd. To use this tragedy to inflict harm on our community is inexcusable. These are a few items confiscated today that were intended to disrupt and cause damage to our city. pic.twitter.com/1SQ7tj1b6K

— Denver Police Dept. (@DenverPolice) May 31, 2020
Meanwhile a few days after that tweet by DPD, the department fired Officer Thomas McClay for posting a picture of himself and two fellow officers in riot gear captioned: "Let's start a riot."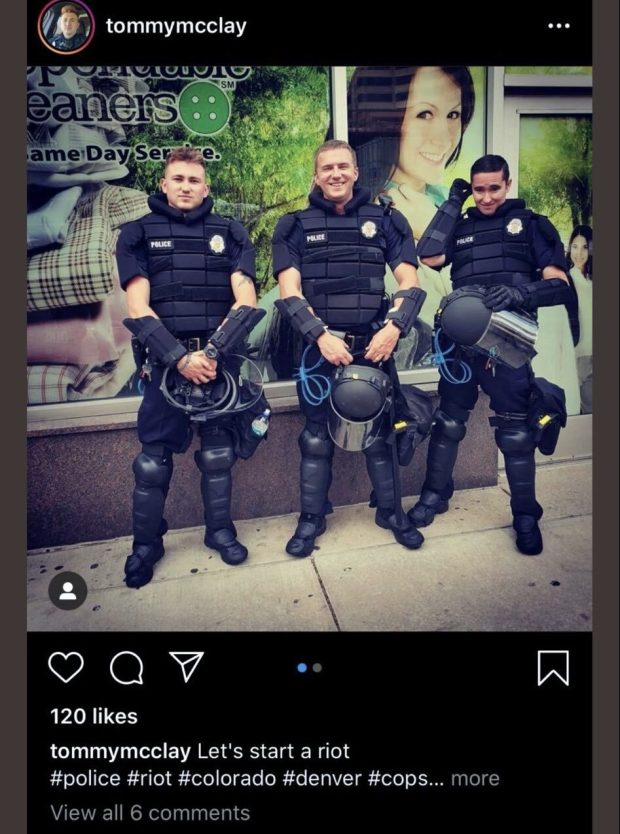 On June 9, Black Lives Matter 5280 published a list of nearly 20 demands of the City of Denver and State of Colorado "[t]o abolish–by which we mean to permanently and holistically eliminate–the structures of policing and related state violence endangering our communities."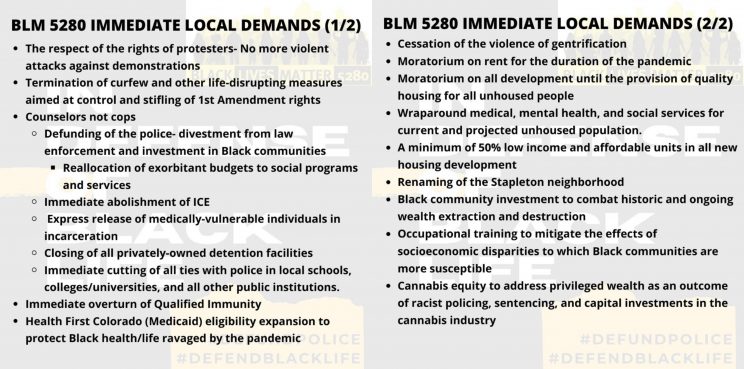 One of their demands is counselors not cops, which is a campaign that Padres & Jóvenes Unidos (PJU) has been running for almost two decades. According to data collected by PJU, in the 2018-2019 school year, there were at least 744 tickets and arrests of Denver Public School (DPS) students. Black students were found to be 2.5 times more likely to be ticketed or arrested than white students, and for Latinx, they were twice as likely than white students.
This weekend innocent children from Denver Public Schools were gassed and shot at by @DenverPolice at the peaceful protests, therefore our contract between DPD/DPS must come to an end.

— Tay Anderson (@TayAndersonCO) June 4, 2020
On June 11 at about 9:30 p.m., Denver school board members voted unanimously to end the contract between DPS and the Denver Police Department, which has been providing school resource officers at 18 middle and high school campuses.
BREAKING:

The Denver School Board has voted 7-0 to END the contract with the Denver Police Department! — WE DID IT! #BlackLivesMatter

— Tay Anderson (@TayAndersonCO) June 12, 2020
On the state level, Senate Bill 217, also known as the Police Accountability Bill, passed the Senate on Tuesday, and was heard on the House floor Thursday. The bill seeks to eliminate qualified immunity, meaning an officer could be sued in their personal capacity for using excessive force. It would also ban chokeholds, require all officers to use body-worn cameras (and to make sure they are working before each shift), and put into place other limits to police use of force and increases in transparency.
Because the bill requires training and more body-worn cameras, it would effectively increase the police budget.
While some in Colorado respond to police violence and brutality with new laws and contract cuts, others focus on grassroots organizing and protesting, no matter if it's seen as "needless" by certain politicians and their supporters. However, without the protesting, whether by "good" or "bad" protesters, the laws, contracts, and other potential changes may never come to fruition.
With a modern law enforcement system directly bred out of the slave patrols in the early 1700s, the attempts to reform, or improve, the racist institution of policing may never be sufficient, and therefore activists and politicians across the nation are seeking to defund and abolish the police.
---
Please consider a tax-deductible donation to help sustain our horizontally-organized, non-profit media organization:

---
Unicorn Riot's George Floyd Coverage: