Fourth Killer of George Floyd Found Guilty
Minneapolis, MN — Almost a full three years after Minneapolis Police killed George Floyd, the final court case of the four officers involved is nearing an end after Tou Thao was found guilty of aiding and abetting second-degree manslaughter. Thao remains in custody and faces up to 10 years imprisonment at his sentencing hearing which is set for August 7, 2023 at 9:00 a.m. in the Hennepin County Government Center.
Thao had previously been federally sentenced to 42 months (3.5 years) in prison for violating George Floyd's constitutional rights in July 2022. During his previous sentencing hearing for that case, Thao made a rambling statement to the court in which he reportedly said that gay people "are worthy of death."
Former Minneapolis Police officer Thao participated in the killing of George Floyd on May 25, 2020 by holding back bystanders that were watching the police subdue Floyd to death for over 9 minutes. Thao threatened the community with violence and pepper spray as they demanded the police stop kneeling down on Floyd. Throughout the ordeal, Thao made several disparaging remarks to horrified community members watching the murder and at one point said "don't do drugs" as Floyd lay under hundreds of pounds of human force in a prone position on his stomach.
On June 3, 2020, Thao was charged with one count of unintentional aiding and abetting second-degree murder while committing a felony and one count of aiding and abetting second-degree murder with culpable negligence creating unreasonable risk. He was convicted of the latter.
In October 2022, Thao waived his right to a jury trial, instead leaving it to a judge to decide his guilt based on stipulated evidence. The documents were fully filed by both the prosecutors and defense on January 31, 2023, including the evidence list, findings of fact, conclusions of law, and closing arguments. Thao's case was placed into the hands of Judge Peter Cahill, the judge who oversaw the trial of Derek Chauvin and who signed the warrant that led to the police killing of Amir Locke.
On May 1, 2023, Judge Cahill filed a 177-page verdict (pdf) and order and supporting memorandum opinion containing the factual findings and conclusions of law.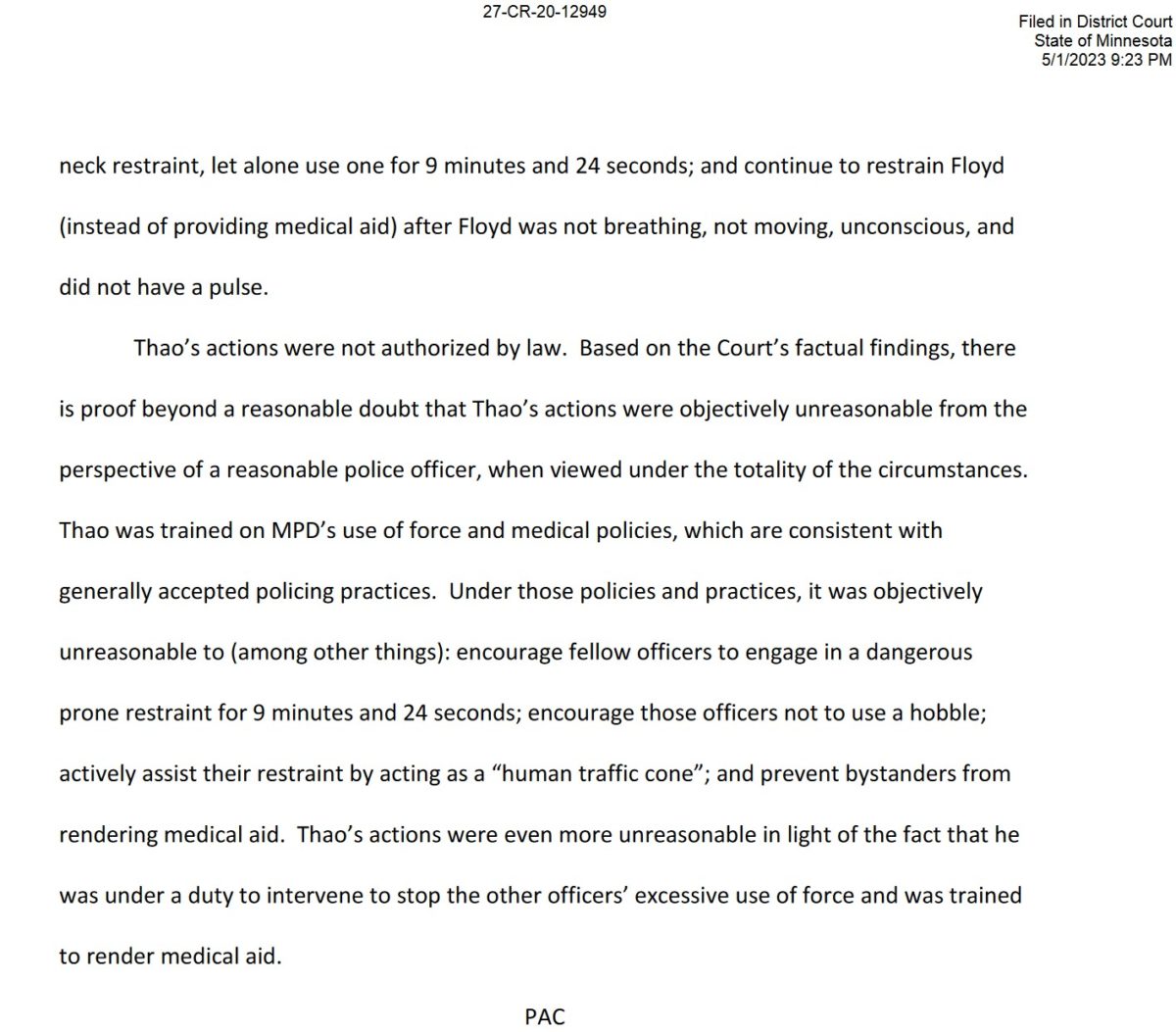 Judge Cahill wrote that "Thao knew Chauvin was creating an unreasonable risk to Floyd. Thao was aware of the restraint, the officers' actions, and the fact that Floyd was in medical distress … Thao was actively aware that the restraint he witnessed grossly deviated from the standard of care, was extremely dangerous, and risked Floyd's death."
TT-Verdict

Chauvin, Lane, and Kueng Sit in Federal Prison
Former Minneapolis Police officers Derek Chauvin, Thomas Lane, and Alexander Kueng directly contributed to Floyd's killing. All three officers were charged in state and federal courts and all three are currently incarcerated in federal prison.
In June 2021, Chauvin was sentenced to 22.5 years in state prison after being convicted of second-degree murder, third-degree murder and second-degree manslaughter. His sentence is the longest prison sentence for a killing committed in the line of duty in Minnesota.
After killing Floyd, Chauvin was federally charged with deprivation of the constitutional rights of Floyd and a 14-year-old victim of Chauvin's in 2017. The youth has since won a multi-million dollar lawsuit along with another of Chauvin's many victims of his brutality. Chauvin pleaded guilty to the federal charges in December 2021 and was sentenced in July 2022 to 21 years in federal prison and transferred from a state facility to a federal one. Chauvin is reportedly held in a federal prison in Tucson, Arizona.
Alexander Kueng was given a state sentence of 42 months (3.5 years) and federally sentenced to 36 months in prison. He's reportedly in a low-security federal prison in Lisbon, Ohio.
Thomas Lane was sentenced to 36 months (3 years) for state charges and 30 months (2.5 years) in federal prison. Lane is reportedly in a low-security federal prison camp in Littleton, Colorado called Federal Correctional Institution Englewood.
All four former officers will serve more time in federal prison than they would have in state prison but their transfer to the federal prison system will result in them facing less restrictions and being granted more accommodations.
Cover image by Niko Georgiades for Unicorn Riot using video by Darnella Frazier.
---
Follow us on X (aka Twitter), Facebook, YouTube, Vimeo, Instagram, Mastodon, Threads, BlueSky and Patreon.

Unicorn Riot's George Floyd Coverage: