Caravan for George Floyd as Federal Trial Begins for Officers Lane, Kueng, and Thao
Saint Paul, MN – With a caravan of dozens of cars, protesters in St. Paul continue to demand justice for George Floyd as the federal trial begins for the three former Minneapolis Police officers who assisted Derek Chauvin while he murdered Floyd. Thomas Lane, Alexander Kueng, and Tou Thao, all fired from the Minneapolis Police Department, face federal charges of violating George Floyd's civil rights. Opening statements began Monday, January 24.
Braving sub-zero weather, organizers from Families Supporting Families, CAIR-MN (Council on American Islamic Relations), and Black Lives Matter MN made speeches before the group of activists proceeded from the old Sears parking lot to the federal courthouse building in St. Paul. Signs reading "They refused to see my humanity," and "One down, three to go" were visible.
After the caravan arrived near the courthouse, the activists spoke once more and recounted George Floyd's murder, mentioning how none of the three officers stood up to help him. Donny Williams, the grandfather of Brian Quiñones- Rosario, spoke on his grandson being killed by the police in 2019, and asked where are the sense of humanity was from the other three police officers' who killed George Floyd.
"Were out here to change the culture of policing in the state of Minnesota, and hold the police and our state accountable."

-Activist during justice for George Floyd caravan
The organizers spoke of a proposed state law that seeks to make anyone convicted of a crime at a protest ineligible for student loans and many other forms of state financial aid.
"A person convicted of a criminal offense related to the person's illegal conduct at a protest, demonstration, rally, civil unrest, or march is ineligible for any type of state loan, grant, or assistance, including but not limited to college student loans and grants, rent and mortgage assistance, supplemental nutrition assistance, unemployment benefits and other employment assistance, Minnesota supplemental aid programs, business grants, medical assistance, general assistance, and energy assistance."

–SF 2381 Minnesota bill authored by Sen. David Osmek posted on 04/08/2021
U.S. District Judge Paul Magnuson presides over the federal case that's being heard at the Warren G. Burger Federal Building on Robert St. in downtown St. Paul. Journalists and media organizations are being restricted to just four media members and a sketch artist during the trial along with a small number of family members on all sides involved. Extra security has closed several main streets during the trial.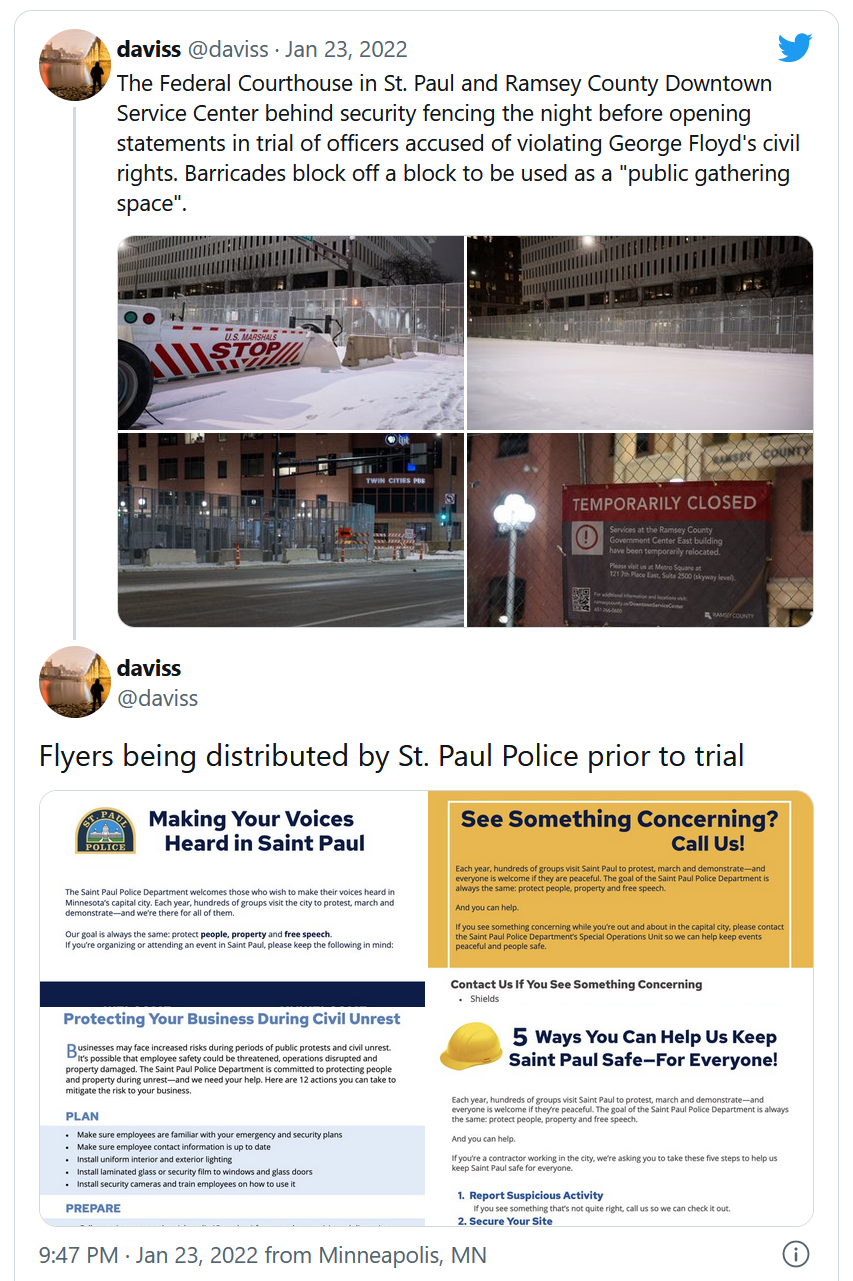 Jury selection, different in federal courts than state courts, took only a day. 18 jurors were selected (12 will rule, 6 alternates).
Attorney Earl Gray represents Thomas Lane, Tom Plunkett represents Alexander Kueng, and Robert and Natalie Paule represent Tou Thao. Both Gray and Plunkett have unsuccessfully defended police officers in the recent past, with Gray representing the convicted Kim Potter and Plunkett representing the convicted Mohammed Noor. Representing the government are Samantha Trepel, LeeAnn K. Bell, Manda Sertich, and Allen Slaughter.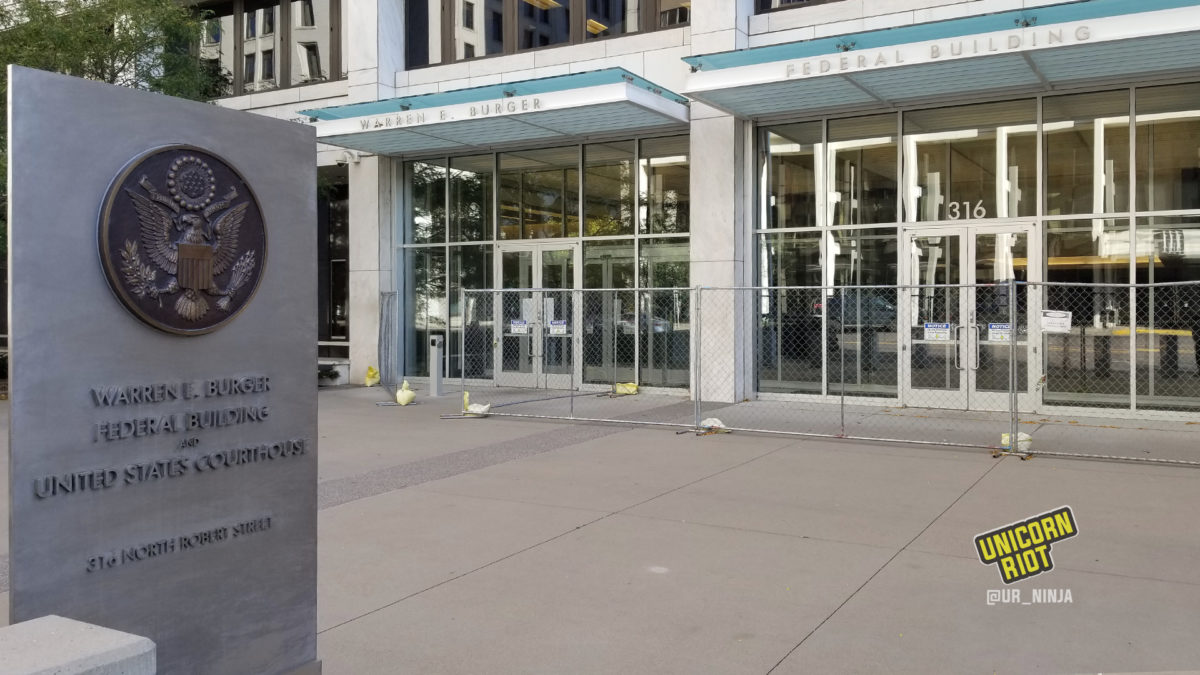 The state trial for 'the other three' was postponed until June 2022 to allow for the outcome of the federal trial. Lane, Kueng, and Thao are charged with aiding and abetting second-degree murder, as well as aiding and abetting second-degree manslaughter. Chauvin was convicted of murder in April 2021 and sentenced to 22.5 years in prison.
State case files for Lane, Kueng and Thao:
---
Unicorn Riot's Derek Chauvin Trial Coverage:
Unicorn Riot's George Floyd Coverage:
Follow us on Twitter (aka 'X'), Facebook, YouTube, Vimeo, Instagram, Mastodon, Threads, BlueSky and Patreon.
Please consider a tax-deductible donation to help sustain our horizontally-organized, non-profit media organization: