Feds Leverage Civil Disorder Charge Against George Floyd Protester
Saint Paul, MN – Charges against an Illinois man facing federal felonies from this summer's uprising in Minneapolis showcase the tactics, techniques and procedures applied by the U.S. government against some of the more enthusiastic participants in the George Floyd rebellion.
Repressive responses by the federal government to anti-police protests have illustrated the ease with which they can charge and indict people who document their own activities on social media. The case also shows how federal agencies are using their deep access to both physical and technical surveillance to nab targets associated with George Floyd protests.
On September 30, at the Warren Burger Federal Courthouse in St. Paul, 28-year-old Matthew Rupert pled not guilty to three federal felonies: civil disorder, riot, and abetting and abetting arson. Motions were heard, evidence was submitted, and a Weapons of Mass Destruction (WMD) specialist in the FBI testified in the criminal motion hearing for the case of USA vs Rupert. [Update: Rupert was sentenced to 105 months in prison on August 10, 2021.]
Rupert's case, one of at least 21 federal cases brought in the Twin Cities this summer, revolves around videos and messages he allegedly posted to his Facebook page, obtained by prosecutors via a search and seizure warrant served to the tech giant.
An FBI agent testified, motions were heard, & evidence was entered at today's hearing in the case of USA vs Rupert in #StPaul.

28 y/o Matthew Rupert pled not guilty to 3 federal felonies: Civil Disorder, Riot, & Arson, from participating in #GeorgeFloyd protests in #Minneapolis. pic.twitter.com/VD56IcF7Il

— Unicorn Riot (@UR_Ninja) October 1, 2020
Rupert, from Galesburg, Illinois, was indicted by a grand jury for his participation in the George Floyd Uprising in Minneapolis. He is said to have traveled from Illinois to Minneapolis on May 29, 2020, with his brother and friend.
Videos posted to Rupert's Facebook are the basis of the government's claims. What appears to be Rupert's voice is heard on a two-hour-long video telling people to throw some "bombs" at the police as he seems to hand out fireworks to people while on the streets of Minneapolis.
The civil disorder and riot charges stem from Rupert's alleged participation in the unrest in Minneapolis on May 29, the day after a police precinct was abandoned and set on fire by crowds of angry protesters.
According to the indictment, the arson charge is from a Sprint Store on Nicollet Ave. and Lake St. that Rupert is accused of "maliciously" damaging.
"He never even flicked a lighter and they are trying to give him 11 years!" — Andrea, Rupert's fiance
The indictment reads that after leaving Sprint, Rupert said in the live video posted to Facebook that he "lit it on fire." Rupert then allegedly stated he went into the Office Depot in the same strip mall "to get shit."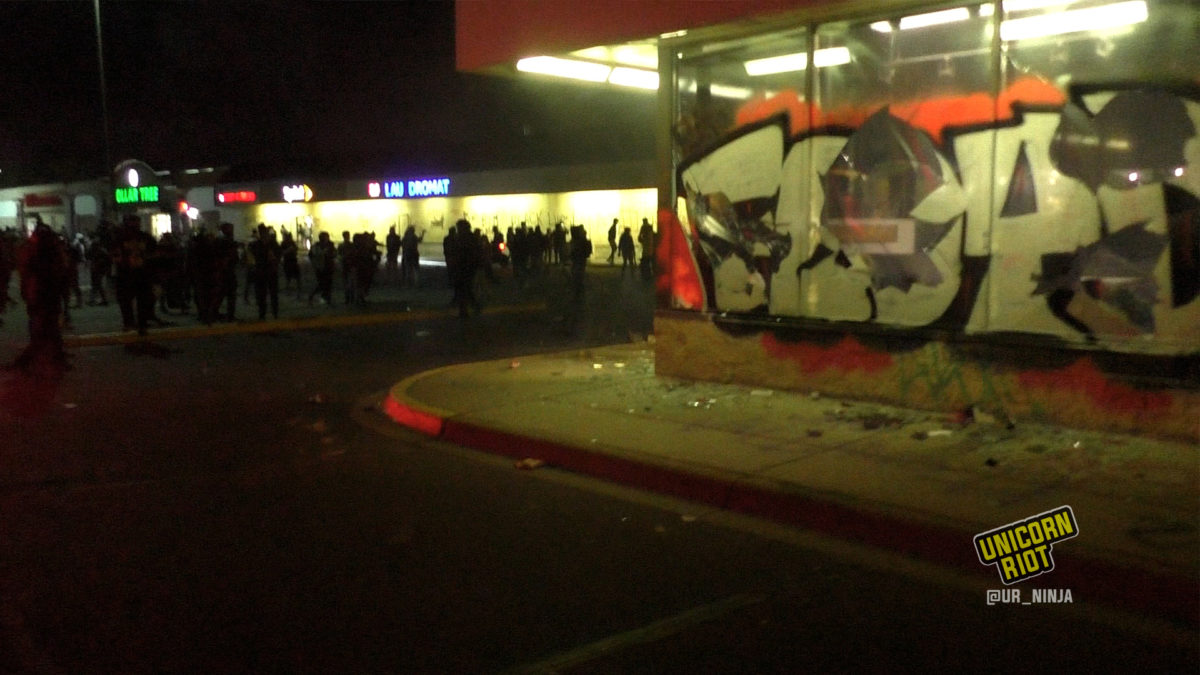 Rupert is facing up to decades in prison from felonies for his alleged actions.
This summer, U.S. Attorney General William Barr pushed federal prosecutors to bring charges against those suspected of inciting violence or damaging property.
"Federal law enforcement actions will be directed at apprehending and charging the violent radical agitators who have hijacked peaceful protest and are engaged in violations of federal law. To identify criminal organizers and instigators, and to coordinate federal resources with our state and local partners, federal law enforcement is using our existing network of 56 regional FBI Joint Terrorism Task Forces (JTTF)." — Attorney General William P. Barr's Statement on 'Riots and Domestic Terrorism'
In response, federal investigators from the ATF and FBI swarmed the Twin Cities seeking evidence from surveillance videos, social media, and human intelligence to bring heavy-handed felony charges against those allegedly involved in property destruction. Over 300 people have been federally charged across the country since George Floyd died with a Minneapolis Police officer kneeling on his neck.
Civil disorder, one of the more unusual charges filed against Matthew Rupert, carries a five year prison sentence and up to $250,000 fine.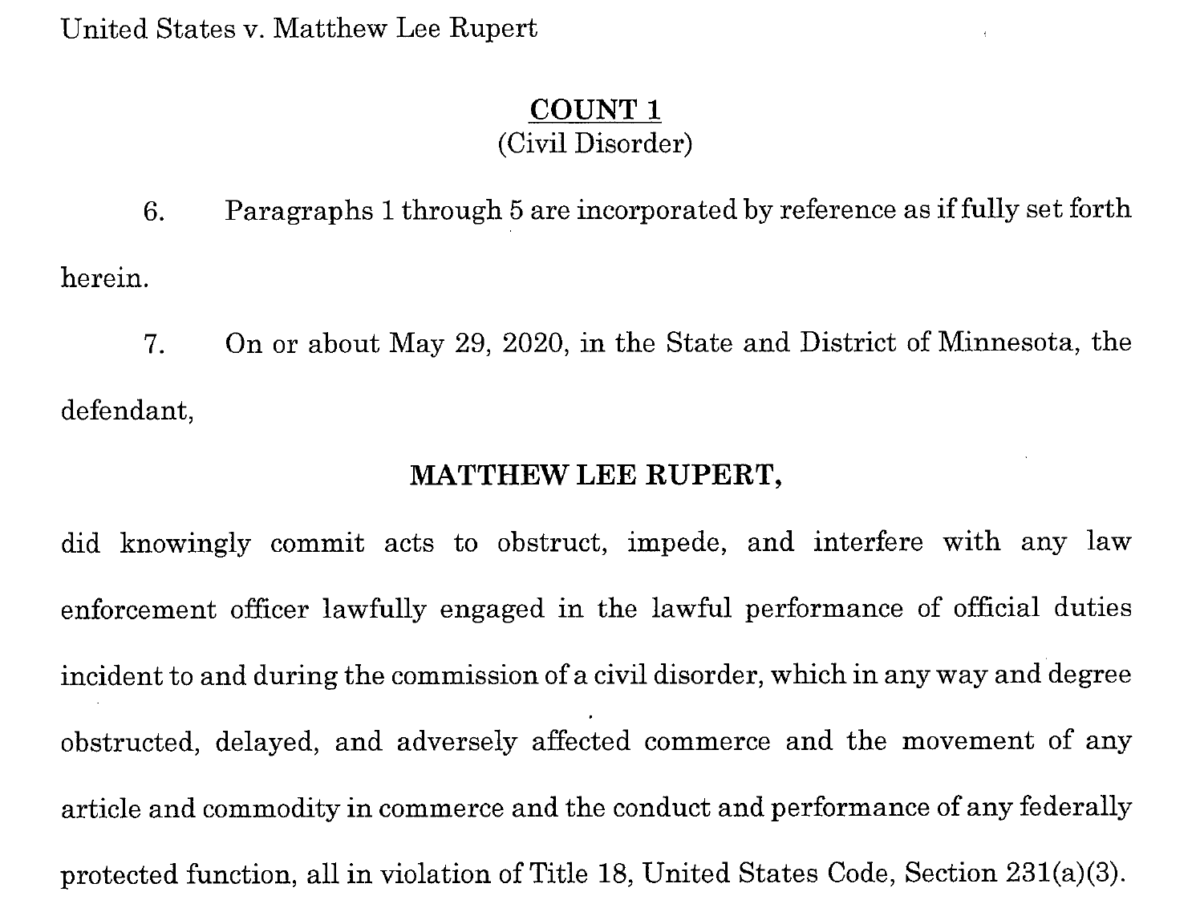 The charge of civil disorder was adopted into law during Lyndon B. Johnson's administration in response to the unrest sweeping across the U.S. in the late '60s. Written with vague language, civil disorder charges have been used by the government during their clampdown on protests for Black lives across the country this year.
Federal prosecutors previously raised concerns from civil liberties watchdogs when they brought civil disorder charges against Indigenous water protectors involved in resistance against the Dakota Access Pipeline during 2016 and 2017. These charges are generally understood as part of a prosecutorial strategy to coerce defendants into guilty pleas.
"The statute can be used to chill free speech, especially in times such of mass unrest." — Jordan Kushner, Defense Attorney
Kushner said the civil disorder charge was a sweeping one that "could be used to prosecute for a felony any participant in a large protest or any aggressive or vocal protest in response to the murder of George Floyd, or any other issue of public concern."
The defense cited a 1987 Supreme Court ruling, City of Houston, Tex. v. Hill, that stated the First Amendment does not allow the police to arrest individuals simply for conduct or words that annoy or offend them.
"A person yelling loudly at a police officer (such as Mr. Rupert allegedly yelling "F — 12") or participating in a large demonstration that incidentally interferes with a police officer or firefighter trying to respond to a call could be guilty of the felony of Civil Disorder." — Jordan Kushner, Defense Attorney
Defense attorney Kushner also said the language vagueness in the riot charge against Rupert is an "invitation to arbitrary and unfair enforcement of the law … [and] a danger for a free society for the government to have such a vague statute in its criminal arsenal."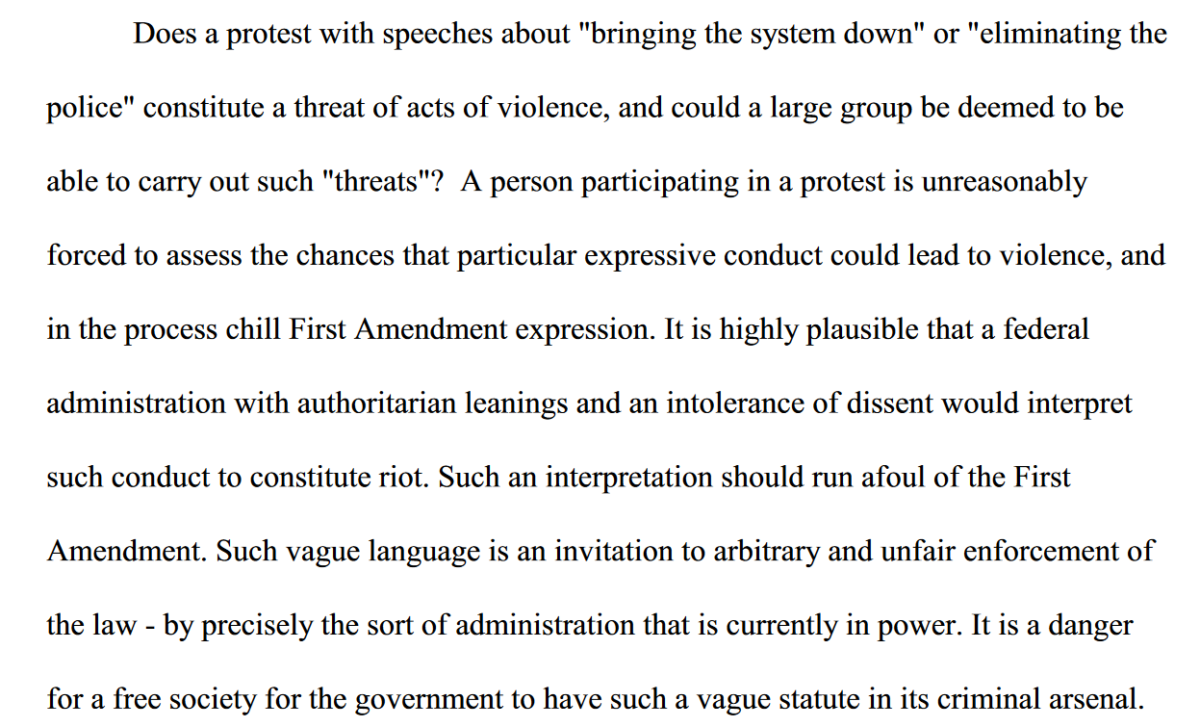 The defense's argument against the arson charges questions the determination of the threshold of maliciousness, saying the statute provides no guidance. Kushner said that during an uprising, a fire could be "intended as a political statement" and not stemming from a malicious personal motivation to damage property.
"They're trying to detract from the real issue which is the murder of George Floyd and the racism and white supremacy in these systems."

"The spark that lit the fire was the murder of George Floyd" — Volunteer with Minnesota Uprising Arrestee Support
Rupert's defense attorney Jordan Kushner said the government offered a plea deal with a sentence "comparable" to the prison time George Floyd's killers face.
"The kind of time they were asking for him when they offered to make a deal seemed about comparable to what cops who killed George Floyd are probably looking at if they got convicted." — Jordan Kushner, Defense Attorney
Rupert's hearing took place in the Edward J. Devitt Courtroom with Magistrate Judge Tony N. Leung presiding over the case. Assistant U.S. Attorneys Angela Munoz and Jordan Sing are representing the U.S. government. They answer to President Trump's Justice Department, which is run by Attorney General William Barr.
In the lead-up to the hearing, several motions were filed by the defense to suppress evidence and dismiss the charges. A handful of those dispositive motions will require additional briefings after they weren't agreed upon in court. They include:
Eight exhibits of evidence were submitted by the government and accepted by the court in response to previous motions made by the defense. The exhibits are as follows:
During the evidentiary portion of the hearing, the government called Minneapolis FBI Special Agent Fred Stephens to the stand to testify. Kushner's questioning prompted Stephens to announce to the court that the Minneapolis Police's use of CS Gas was the only probable use of so called Weapons of Mass Destruction during the events surrounding George Floyd's death by police.
The use of chlorobenzylidenemalononitrile gas (CS Gas, or Tear Gas) is banned under international law, yet legal for police to use on individuals. Among its many negative side effects, reports circulated this summer after heavy use of the gas at protests across the country led to serious symptoms such as irregularities with menstruation and pregnancy.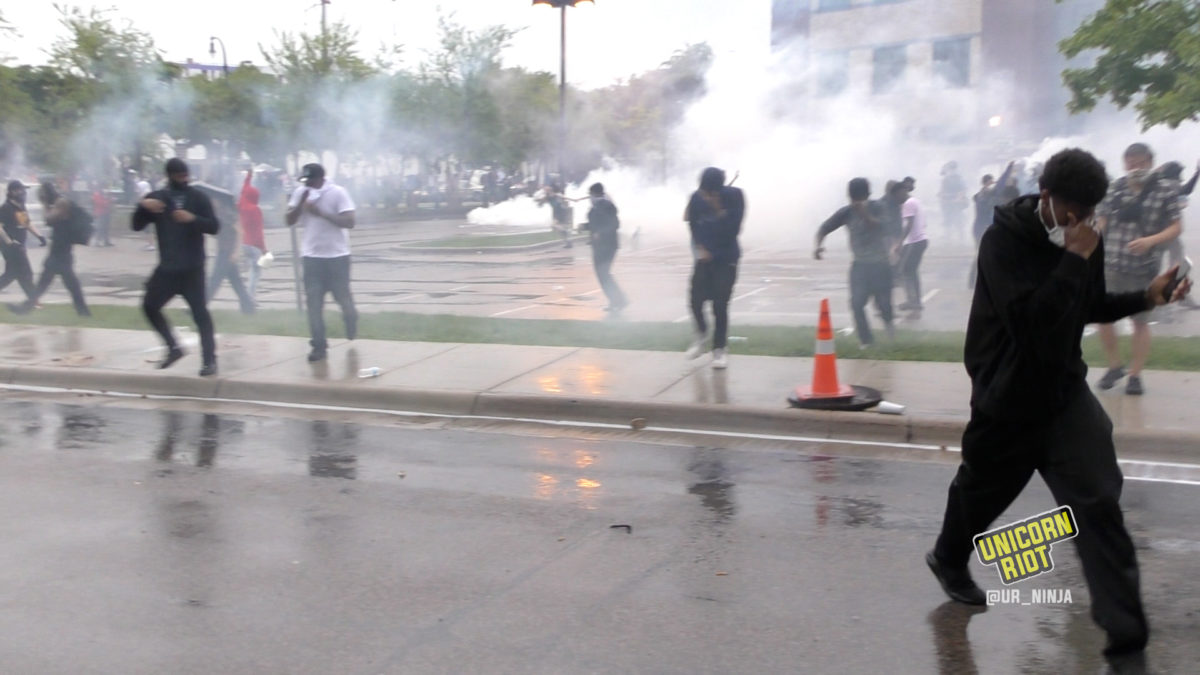 Stephens is the Coordinator of the Weapons of Mass Destruction unit for the Minneapolis FBI and the lead agent involved in bringing federal charges against Rupert in Minnesota.
The questioning that led Stephens to acknowledge authorities' use of weapons of mass destruction (WMD) was the defense asking if there were actual bombs thrown at the police or if they were fireworks. The line of questioning started as such:
Kushner: "There were no WMD used in the protests following the murder of George Floyd by the Minneapolis Police?"
Stephens: "The police officers used the weapons that are consistent with their authorized use."
Kushner: "Ok, but the question is, were there any WMD used by anyone?"
Stephens became visibly agitated after this question and replied that the question was not as "straightforward as it would appear." He said he was concerned his answers would "complicate" the hearing and he leaned towards the judge and asked for a break.
Stephens said he needed to "speak to the agency's office and explain [himself]." Kushner objected, and Judge Leung didn't allow Stephens' requested break and told him to answer the question.
Stephens then stated: "it's a complicated question" because there are WMD with certain chemicals that are allowed to being used police but are prohibited for use by the military, "like for example, CS Gas."
Kushner asked if there were any investigation launched into the police's use of CS Gas, or WMDs, to which Stephens responded, "no."
Stephens testified about the timeline in which federal agents suspected Rupert's alleged criminal activities took place. He said Rupert arrived to Minneapolis in the evening of May 29 and left early the next morning. Rupert is said to have been pulled over in Goodhue County, Minnesota, around 2:00 a.m. and allegedly told a deputy he was on his way home.
Stephens said Rupert then went to Chicago, and "advertised [with a Facebook post] when he was there." Rupert was then arrested in Chicago on May 31 for an alleged curfew violation. His car was searched and impounded under violations of Chicago's municipal code after they found fireworks.
As Rupert was being held in jail, FBI agents came to visit him in a holding cell in which Rupert was handcuffed to the bench. In response to previous defense motion to suppress Rupert's statement to the FBI, recorded video excerpts of the beginning of the jail visit were played in court.
Rupert eventually signed a paper waiving his rights after originally telling the two agents who came into his cell that he "wanted a lawyer." Notably visible in the video was the two agents entering together and one then immediately leaving the room for several minutes to allegedly answer a phone call. According to Assistant US Attorney Angela Munoz, FBI protocol calls for "two agents present when participating in an interview of this nature." Yet somehow, the agent that sat in the cell alone with Rupert had convinced him to sign away his rights by the time the other agent returned from the supposed phone call.
Because the defense made a motion to suppress evidence obtained through the warrants as they were done via telephone and video call, agent Stephens testified at length as to the process of signing the Facebook search warrant. The warrant ordered Facebook to turn over a swath of information on Rupert's account within 14 days.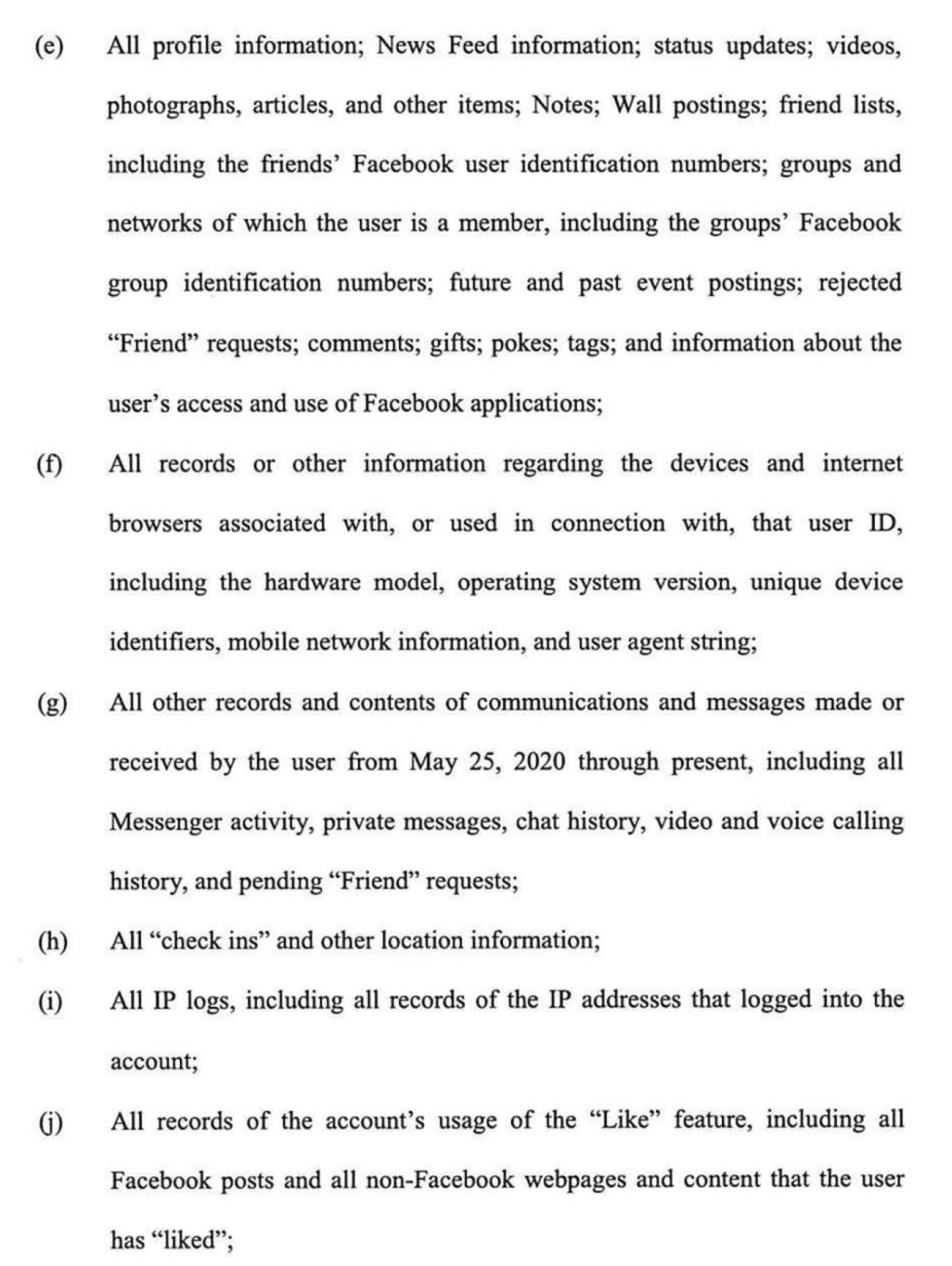 Along with the Facebook warrant was a warrant to get Rupert's phone records and search his home, where he lived with his mother and family members. The FBI used both information provided by a roommate and the United State Postal Investigatory Service to confirm that it was Rupert's home.
Rupert's family claims the government shut off their home's internet before conducting the raid, effectively preventing their security cameras from recording video of the raid and saving it to the cloud.
Rupert, currently detained in the Sherburne County Jail, appeared in court dressed in the jail's orange jumpsuit. Members of his family and a few supporters were the only ones present in the court gallery besides a Unicorn Riot reporter.
Rupert was ushered in and out of the courtroom by two U.S. Marshals, one wearing a mask with a faded black and white American flag and a single blue line streaking across it. This symbol has become associated with the "Blue Lives Matter" movement which emerged as hostile backlash to the first wave of Black Lives Matter protests in Ferguson in 2014.
Coronavirus guidelines in court called for social distance seating and a mask to be worn at all times, excluding when the witness was giving testimony. Plexiglass separated three slots on a table for both the defense and the plaintiff side.
While Rupert clearly drove across state lines and posted to Facebook about his actions during the trip, his participation during two hours spent in Minneapolis was arguably insignificant compared to nearly five full days of intense unrest by hundreds of thousands of participants across the Twin Cities metro with little-to-no police intervention (reportedly due to a 'slowdown' orchestrated by a politically bitter police force.)
The framing of "peaceful" versus "violent" protesters via the term 'civil disorder' is a notable element in Rupert's case, and others. Dividing good protesters from bad protesters (peaceful/non peaceful, violent/non-violent) is a common counter-insurgency tactic used against rebels throughout history. In this case, federal prosecutors state in Rupert's indictment: "Large numbers of law enforcement officers and the National Guard were deployed in an effort to quell these civil disorders and protect those individuals engaged in peaceful protests."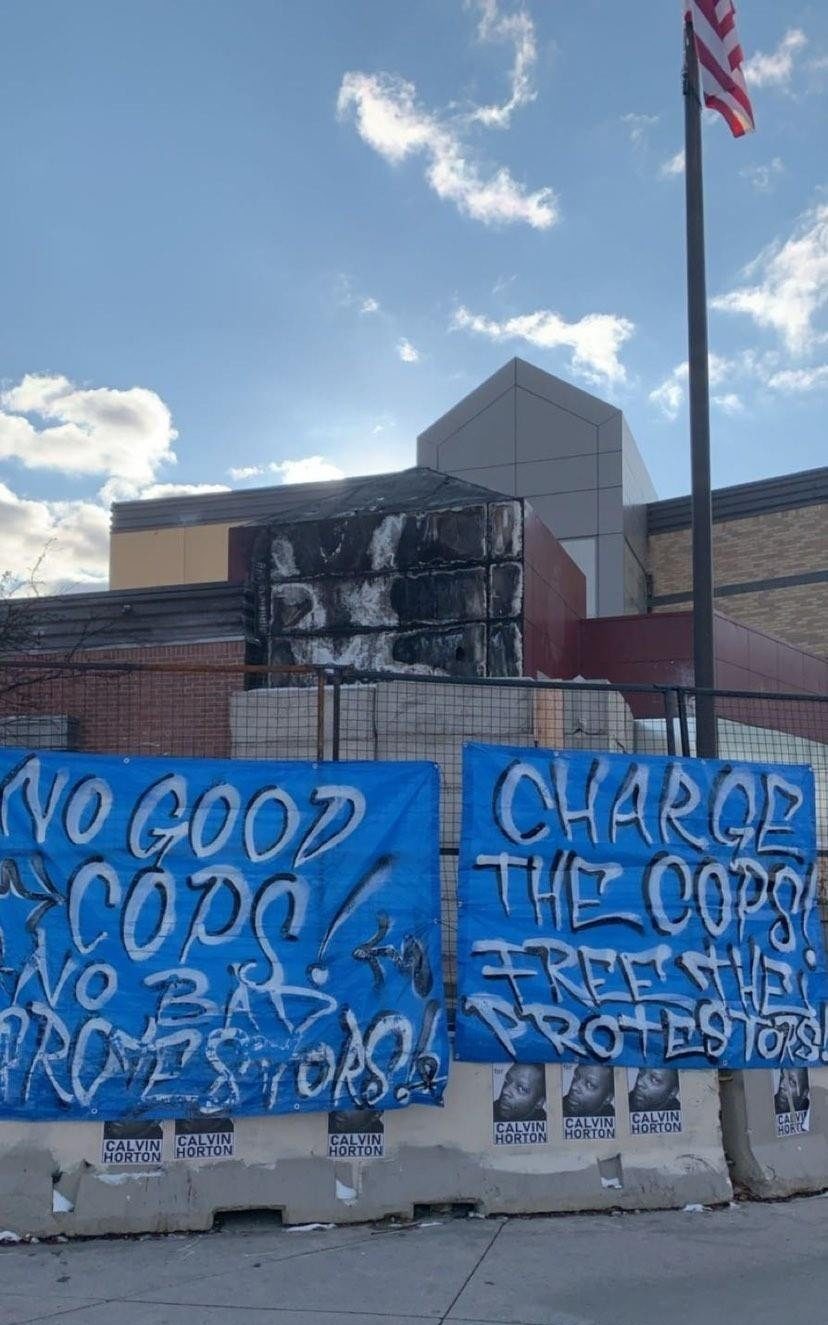 Civil disorder charges are increasingly being used across the country in a federal crackdown targeting protests against police violence. Civil disorder charges were part of the "blatantly political" federal case brought last week against West Philadelphia teacher and organizer Anthony Smith and two others. We were live from Malcolm X Park in West Philly on October 30 for a press conference in which Smith's family and friends spoke against the politicized charges brought against him. Pam Africa of the MOVE organization said Smith recently had features done on him in the Inquirer and Philadelphia Magazine, just as political prisoner and journalist Mumia Abu-Jamal did before he was set up by police in the early 1980s.
"They've clearly invested hundreds of thousands, if not millions of dollars, into fabricating a bugaboo. If they put a fraction of that towards assisting communities in fighting white supremacy, we'd be in a much better place right now." — Volunteer with Minnesota Uprising Arrestee Support
After the September 30 hearing, a volunteer with Minnesota Uprising Arrestee Support (MUAS) recapped their highlights of the court proceedings and spoke about the support that the ad-hoc arrestees group does.
Numerous other defendants are facing federal charges from actions in response to the police killing of George Floyd. 'MUAS' website features information on some of the defendants.
MUAS has an upcoming community-building fundraising event on November 2 at Seward Cafe to raise money for Midori's Floating World Cafe, co-hosted by the Minnesota Freedom Fund. Midori's is providing free lunches for the arrestees.
The building in which Midori's was housed sits a block away from the 3rd Precinct and was damaged during the uprising; they've since closed. MUAS says of hosting the event: "As part of imagining a future without police, we are also imagining new ways of community care."
In the Rupert case, the defense is to have their briefings filed by November 2, 2020 and the US Attorney will have until three weeks after that, November 23, to respond. Judge Leung's report and recommendations are set to be delivered on December 23, 2020. A jury trial in this case is set for March 2, 2021. Continue to follow Unicorn Riot for further reporting on the aftermath of the Memorial Day murder of George Floyd.
---
Chris Schiano contributed additional research for this report.
Unicorn Riot's George Floyd Coverage:
Follow us on X (aka Twitter), Facebook, YouTube, Vimeo, Instagram, Mastodon, Threads, BlueSky and Patreon.
Please consider a tax-deductible donation to help sustain our horizontally-organized, non-profit media organization: