Two Years After George Floyd
Minneapolis, MN – Two years ago today, Minneapolis Police killed George Floyd, a 46-year-old father of five, over a suspected counterfeit twenty-dollar bill. Community-recorded video of his killing went viral and culminated into what was a historic uprising that saw the besiegement of the Minneapolis Police's 3rd Precinct by thousands of community members after days of unrest.
Several days of events are planned in the Twin Cities and beyond to commemorate George Floyd and all others killed by police, while calling for accountability and change.
Marking two years to the day of Floyd's killing, Floyd's family unveiled a new George Perry Floyd Square street sign at on Chicago Avenue and 38th Street at George Floyd Square. A vigil was held at the Say Their Names Cemetery and hundreds of community members took part in a ceremony of pouring libations while an image of a Sankofa bird was made from bronze casting. Watch the full uncut stream in HD below.
During the event we heard from several community members, two of which, Tamiko French and Cortez Rice are featured in videos below. French brought her healing energies to the Square and Rice spoke with us about being jailed on politically motivated charges related to Kim Potter's trial, his son being killed at a school shooting in February, two years since his friend George Floyd was killed, Biden's new bill and the struggle for police accountability.
All of the four officers involved were fired within days of Floyd's murder, but they didn't receive any charges until the day after the precinct was burned. In one of the first televised murder trials in Minnesota history, Derek Chauvin was convicted of second-degree murder and sentenced to 22.5 years in prison. Chauvin also pled guilty to a federal charge of civil rights violation. He's currently in maximum security prison MCF-Oak Park Heights, with an anticipated release date of December 10, 2035.
Chauvin's co-defendants, also former Minneapolis Police officers, Tou Thao, Thomas Lane, and J. Alexander Kueng, were all found guilty of federal civil rights violations after a jury ruled that their actions directly resulted in Floyd's death. Thao and Kueng have upcoming state trials scheduled to start June 13, 2022.
Last week, Thomas Lane pled guilty to manslaughter and had his charge of aiding and abetting second-degree unintentional murder dismissed.
The uprising expanded across the globe, mobilizing millions of people against anti-Black racism and police terror. Despite the historic demonstrations and widely popular revolt, little to no structural changes to bring accountability for police violence have occurred in Minneapolis, nor throughout the United States, apart from the convictions of Chauvin and his co-defendants.
Today, on the second anniversary since George Floyd's death, President Biden said amidst concern that the inspiration to fight racism spurned by Floyd's killing was fading away, that "progress can be slow and frustrating." He signed an executive order to create a national registry for officers who've been fired for misconduct, restricting military equipment use by the police and mandating federal agents to wear body cameras. The latter point was a huge topic of contention in Minneapolis a year after Floyd was killed, as federal agents killed Winston Smith and claimed there was no video of it.
See all of our George Floyd coverage below, including our Reporter Reflections series, which are mini-documentaries of the first days of the uprising.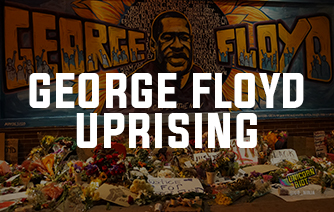 Follow us on X (aka Twitter), Facebook, YouTube, Vimeo, Instagram, Mastodon, Threads, BlueSky and Patreon.
Please consider a tax-deductible donation to help sustain our horizontally-organized, non-profit media organization: