The State's Conviction of Chauvin Upholds the System's 'Innocence'
Minneapolis, MN – In just ten hours, the jury in the Derek Chauvin murder trial delivered guilty verdicts on all three counts for the killing of George Floyd. In the context of the state's arguments, the verdict serves to show that Chauvin's actions were an outlier, implying that the larger system of policing is not guilty.
George Floyd Square Reacts to Verdict
After the verdict was announced, hundreds gathered at George Floyd Square (GFS), the site at 38th St. and Chicago Avenue where Floyd was murdered by Chauvin last May. It quickly became a site of jubilee.
Kai Anderson, an activist and graduate student at the Humphrey School of Public Affairs, warned fellow activists to stay centered and not to "get too overjoyed."
"This is a win. And I think what happened should've happened. But it was a year of hell. And that's BS that we had to go through all of this just to get a guilty verdict."

– Kai Anderson, Minneapolis activist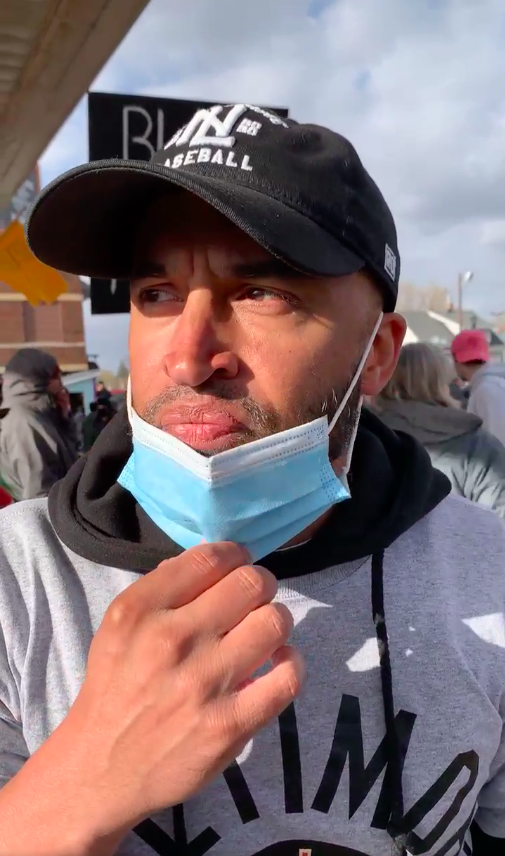 Angela Harrelson, George Floyd's aunt, spoke to throngs of people at GFS in the early evening and thanked the protesters and community members who participated in the uprising and who maintained the Square. She also shared the sentiments of Anderson:
"Systemic racism is real, it has been penetrated through all these systems: judicial system, employment system, housing system, the education system . . . today was validation."

– Angela Harrelson, George Floyd's Aunt
When speaking in front of many press outlets, Harrelson said that if it had not been for Darnella Frazier recording the incident, Minneapolis Police (MPD) would have covered up the murder of her nephew. Harrelson believes there wouldn't have been a guilty verdict or a trial at all without the viral video.
Final Pitch
The state closed its case on Monday arguing that "our expectation is that the police are gonna help, and with reason, with good reason because policing is a most noble profession." Steve Schleicher, one of the prosecuting attorneys, also highlighted that Derek Chauvin "knew better, he just didn't do better" and that what he did "was not policing."
Schleicher reflected on MPD Chief Medaria Arradondo's testimony saying he does not condone Chauvin's killing of Floyd, and that MPD training does not justify it.
"This was not an accident… He did what he did on purpose, and it killed George Floyd," Schleicher said. The state told the jury and to the world that in their view, Chauvin betrayed his badge. "This prosecution is not anti-police," Schleicher said, but "pro-police".
In other words, it was the Chauvin defense that was putting 'the system' on trial.
A guilty verdict in the eyes of the state is seen as a loss for the movement for people like Anderson who believe policing itself is responsible for Floyd's death, and the death of many others. A not guilty verdict would have suggested that the system itself is the problem and that Chauvin was well within his rights to take the action that led to Floyd's death.
In response to the idea that the public respects the police, Minneapolis City Councilmember Jeremiah Ellison, son of the lead prosecutor in the trial, MN Attorney General Keith Ellison, told Unicorn Riot that it's about fear more than it is respect for the badge.
Ample Evidence of Systematic Racism
During jury selection the world heard from everyday Black people, with some disclosing their own horrific experiences with Minneapolis police. Prospective juror #76, a Black man, was disqualified from serving for potential bias against police. He was disqualified because of a story he shared about a time after a Black man was killed by cops, MPD drove through the neighborhood playing "Another One Bites the Dust."
Contradicting the state's argument that Chauvin was an aberration, Brooklyn Center Mayor Mike Elliot told Wolf Blitzer live on CNN that he has constantly been racially profiled by Minnesota law enforcement. He listed several experiences including a time when he was a kid playing at a park. He and another Black friend were the only two amongst a multi-racial group of kids that were put into the back of a squad car to be identified for a crime they didn't commit.
Elliot said he has been profiled by his own police force while driving. "It's not safe to drive in Minnesota if you're Black. That is a terror that no American should face."
Other than having Black leadership, little has changed in policing practices. Reform efforts have repeatedly failed since the ACLU published a scathing report in 2014 documenting systematic police racism in Minneapolis.
[For more evidence on systemic racism in Minneapolis, see Unicorn Riot's ongoing investigative series, 21st Century Jim Crow in the North Star City, exposing the public-private partnership between Target Corp. and local government, creating Jim Crow-like conditions for Black youth experiencing homelessness in downtown Minneapolis.]
Corporate Media
Mel Reeves, activist and community editor with the Minnesota Spokesman-Recorder, said in a recent interview with the People Power Podcast, "the system is on trial."
However, in the course of the three-week Chauvin murder trial, mainstream media outlets failed to report what activists like Reeves saw clearly: that a guilty verdict proves "the system" works.
Tom Lyden from Fox 9 News, a Minneapolis affiliate of the right-wing Rupert Murdoch-owned Fox Broadcasting Company, was at GFS after the verdict was announced. Lyden has long been criticized by Black community members for being a mouthpiece for the city and characterizing protesters as "violent". He is notorious for following people into the men's room for interviews, but was uncomfortable being publicly confronted for his pro-police stances by the People Power Podcast.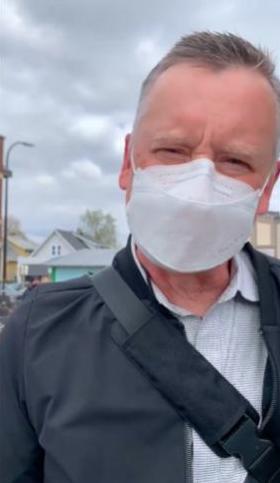 Not long before the verdict was announced on Tuesday, CNN interviewed activist and former Minneapolis NAACP president, Leslie Redmond, live on the air. When Redmond referred to Derek Chauvin as a serial murderer, citing facts about his record including his involvement in four additional police killings prior to killing Floyd, CNN ended the interview with a disclaimer that they have not fact-checked Chauvin's background.
CNN, owned by multinational telecom giant AT&T, had most of a year to look into the background of Chauvin and his known involvement in previous killings.
Despite CNN repeating the state's argument that Chauvin was an outlier, and their sweeping failure to properly contextualize the trial, CNN anchors who are non-white have been sharing their experiences with racism.
In the wake of new unrest following the police killing of Daunte Wright, CNN reporter, Adrienne Broadus, was asked about her personal feelings of covering her hometown during the Chauvin trial, in which she replied: "It seems like Minneapolis is a case study to root out some deep rooted issues of racism."
CNN host, Don Lemon, has been talking about the systematic racism within policing on his nightly program. Following the verdict, Lemon invited Senator Amy Klobuchar onto his show to "discuss racism." Klobuchar previously suppressed video evidence that could have exonerated Myon Burrell, who was wrongfully convicted as a teenager, but charged as an adult, for a murder when Klobuchar was the Hennepin County district attorney.
Justice Delivered?
South Minneapolis tenant rights activist, Coriner Boler, although pleased to see a guilty verdict, believes justice for Black people is about gaining access to power:
"The outcome in the trial was not justice. The trial was designed to protect the city so it doesn't burn again. Justice is about jobs as much as it is about police accountability, and the city has failed time and again at both."
Alternatively, some politicians reacted in a more festive light. Congresswoman Ilhan Omar tweeted on Tuesday: "Today's verdict is a major step on the path towards justice & accountability."
Congresswoman Cori Bush from St. Louis also took to Twitter: "Our hope is that this verdict will be a small step towards accountability. But that's just about accountability, not justice. For us, justice would be George Floyd alive today."
Some activists in Minneapolis believe this verdict is indeed the beginning of a tide of accountability.
I'm thinking back to May 28th 2020 5:30 pm when D.A Mike Freeman basically said there wasn't enough evidence to Charge the 4 officers for murdering George Floyd. And a huge mob of Minneapolis heavy steppers said "bet" and torched the 3rd precinct & tore whole city up. 💪🏽😈 pic.twitter.com/hDvRkjusR5

— Isak Douah (@Isakdouah) April 21, 2021
Councilmember, Jeremiah Ellison, said in order to create true public safety, Minneapolis has to change its thinking as a city and how power responds to the community: "I think for most of us, the greatest tragedy that happened last summer was the murder of George Floyd. I think for other folks in leadership, the greatest tragedy that happened was the third precinct burned down."
"Folks in the governor's office, folks in the mayor's office, think the community is the problem. They think it's just a bunch of rabid activists with no impulse control."

– Jeremiah Ellison, Minneapolis city councilmember
Time will tell if the people of Minneapolis let the leaders who believe "the community is the problem" and those who attempted to blame George Floyd's murder on "medical distress" off the hook.
The mayor and the entire Minneapolis city council are up for re-election this year.
Cover image by Niko Georgiades from the night of the Chauvin verdict – 'Say his name. George Floyd.'
---
About the author: Marjaan Sirdar is a freelance writer in South Minneapolis' Bryant neighborhood, where George Floyd was killed by the MPD. He is the host of the People Power Podcast.
---

Unicorn Riot's Derek Chauvin Trial Coverage:
Unicorn Riot's George Floyd Coverage: