Website Business Named for George Floyd Spurs Controversy
Local activists question if Black death is exploited
Minneapolis, MN – Twitter was on fire this past weekend after digging into the background of Suzanne Medes, the owner of the website GeorgeFloyd.com. Twin Cities activists first flagged Medes for queerphobic comments, accused her of attempting to profit from George Floyd's death, and more.
Medes bought the domain name GeorgeFloyd.com just days after Floyd was murdered by Minneapolis police officer Derek Chauvin in 2020. She faced ongoing ire after responding to a tweet by a right wing activist that triggered a chain of reactions from people online.
Update 6/26: A response from The George Floyd Memorial Foundation at the end of the article.
Unicorn Riot reached out to Medes for an interview on the record, which she agreed to and contributor Marjaan Sirdar conducted for over 40 minutes. Afterwards she insisted she did not want to be quoted directly from the conversation; key points are summarized below.
Minneapolis-based activist @SimpleBoatMan saw the tweet and was one of the first to flag her comments and raise questions about Medes' credibility. Via the George Floyd News Twitter account (@GeorgeFloyd_com), Medes appeared to endorse the false moral panic aimed at gay and transgender people, which defames them as child predators and "groomers" targeting minors through schools.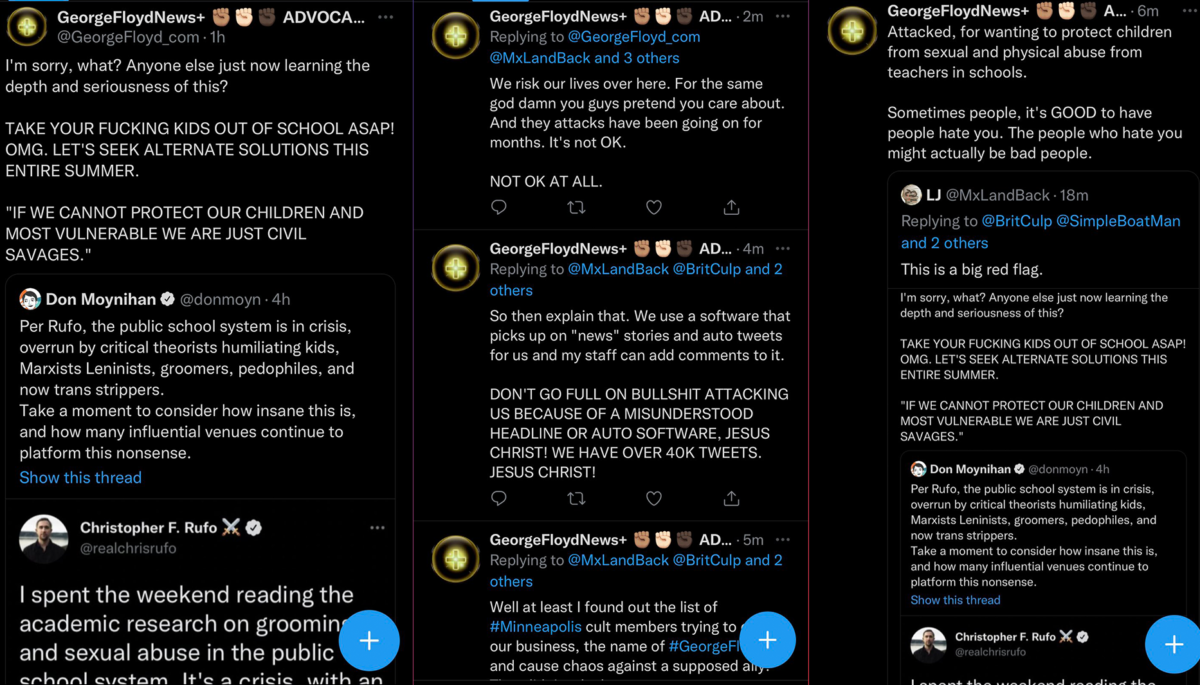 Christopher Rufo, a leading conservative architect of both the "critical race theory" panic and queer panic, works at the Manhattan Institute for Policy Research. The Institute has specialized in drumming up conservative alarm-based policy frameworks like "broken windows theory" since it was co-founded by Ronald Reagan's CIA director Bill Casey in 1977.
Soon other Minneapolis-based activists also began scrutinizing Medes. They realized she was a white woman from New Jersey, which quickly caused a stir among Minneapolis Twitter users. Many wondered about whether it was wrong to use Floyd's name and his death in the fashion Medes has done.
In response, Medes claimed several times on Twitter that anyone who questions or "attacks" her legitimacy is attacking the legacy of George Floyd and his family. One user responded: "Hey Suzanne. Do you see the irony here?" Quoting Medes, @djamiempls tweeted "'They go on a Minneapolis campaign to destroy our business.' WE LIVE HERE, DIPSHIT."
A volunteer known as Medic Kim, who has been a regular providing aid in the area where George Floyd was murdered for much of the last two years, posted that Medes provided financial support in one instance: "Suzanne donated $1K last winter which I used to buy almost a month supply of firewood, 3 space heaters, subzero sleeping bags, & blankets; those funds were also used for emergency shelter for houseless folx. All of which she approved."
---
The business of George Floyd's online footprint
After Minneapolis activists raised the subject of the website, others around the country began to look at the issue as well as copies of the website saved on Archive.org. One writer discovered that Medes registered dozens of additional domain names related to Floyd and his family. Medes told Unicorn Riot that she has purchased around 110 domain names related to George Floyd and his family members.
In response to online accusations of profiteering from Black death, Medes tweeted several times that she was given permission from George Floyd's family to build her business in his name. Screenshots from previous website versions also reiterate this. "GeorgeFloyd.com is ultimately set up to generate a lifetime of fundraising for the George Floyd Family and the Floyd Family Foundation… with very little overhead, operational commitment or cost." The website also stated: "Ben Crump Law & Floyd Family hold copy edit authority on website & all profits generated from website income go toward George Floyd Foundation." On Thursday Medes sent messages to several accounts, including Unicorn Riot, that the Crump firm has made a press release about the matter but she has declined to provide it.
Medes told Unicorn Riot she distributed thousands of flyers in Minneapolis promoting her project during one of the subsequent former police trials but the website was otherwise only intended as a test site, and received "zero hits." (This is contradicted by promotional material touting web traffic.)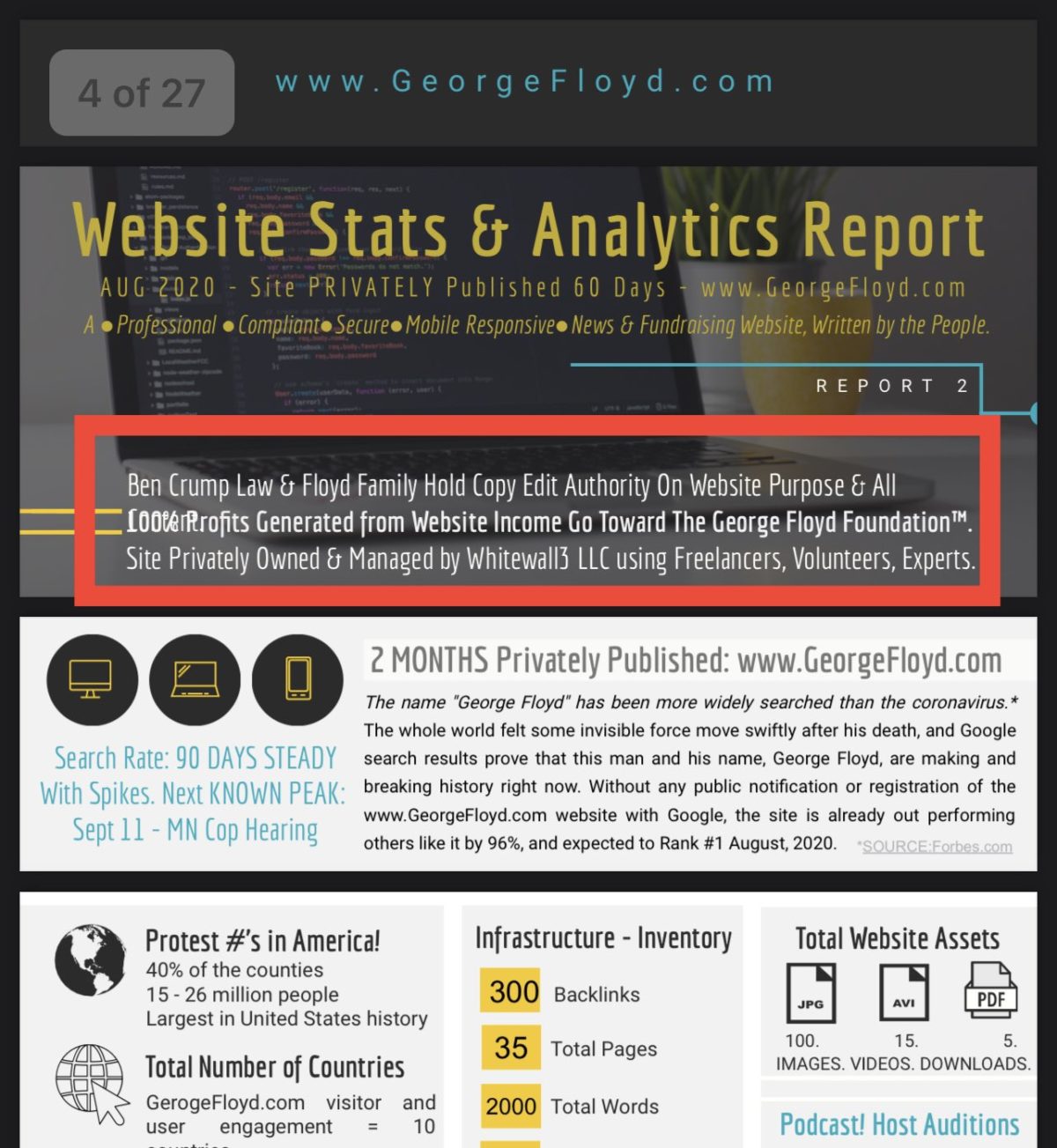 Medes tagged Los Angeles based "copwatch" activist William Gude (@FilmthePoliceLA on Twitter) into one of the tweet threads, to help defend her and her business. She told Unicorn Riot she has been friends with Gude; however, Gude, who is a Black man, told Unicorn Riot in no uncertain terms that they are not friends.
"She reached out to me asking if I can help her file police complaints," according to Gude. She wanted to file police complaints as a third party, for a fee, on behalf of people who have been brutalized by the cops but don't want to file complaints themselves, Gude told Unicorn Riot. "She was looking for a way to monetize this. She's finding ways to make money off people's bad encounters with the cops. Which is kind of dirty."
Instead of defending Medes, Gude researched her background including work history, intellectual properties, the GeorgeFloyd.com website and shared his findings on Twitter.
Gude, who had just days ago observed the anniversary of his son's murder, was not in the mood for games on Father's Day when he was dragged into the online discussion. He tweeted, "We watched a cop kneel on George Floyd's neck, took to the streets and demanded Justice. This white lady saw George Floyd get murdered by a cop and said, 'Business Opportunity!' …Piece of shit."
(A separate entity, George Floyd IP Holdings, LLC, managed by lawyers in the Twin Cities and not affiliated with Medes, filed a trademark on Floyd's name last November. Medes touted trademarking "GeorgeFloyd.com" in the promotional material but this doesn't seem to be an existing trademark.)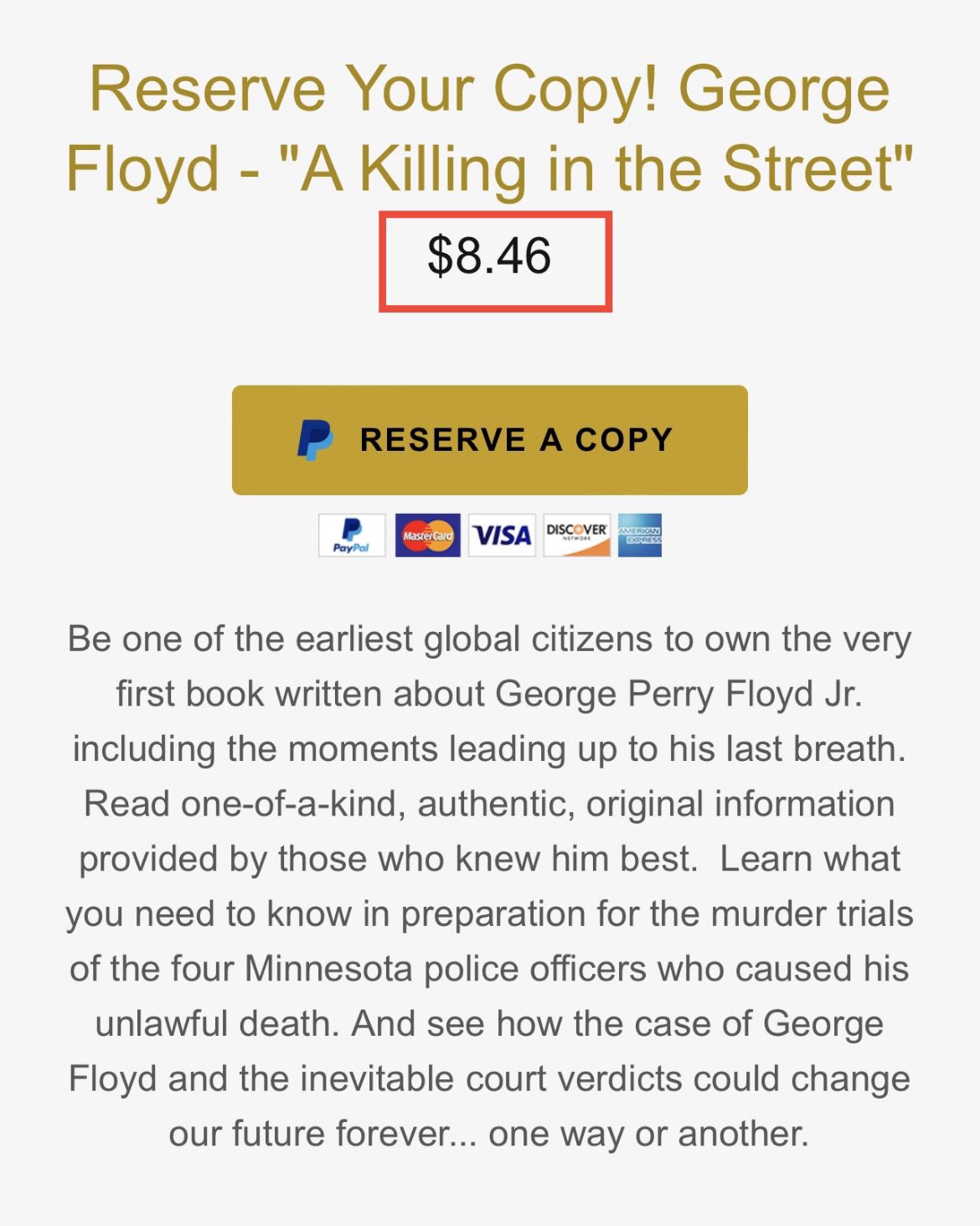 Gude further discovered that Medes posted several concepts to generate revenue on archived versions of GeorgeFloyd.com, including: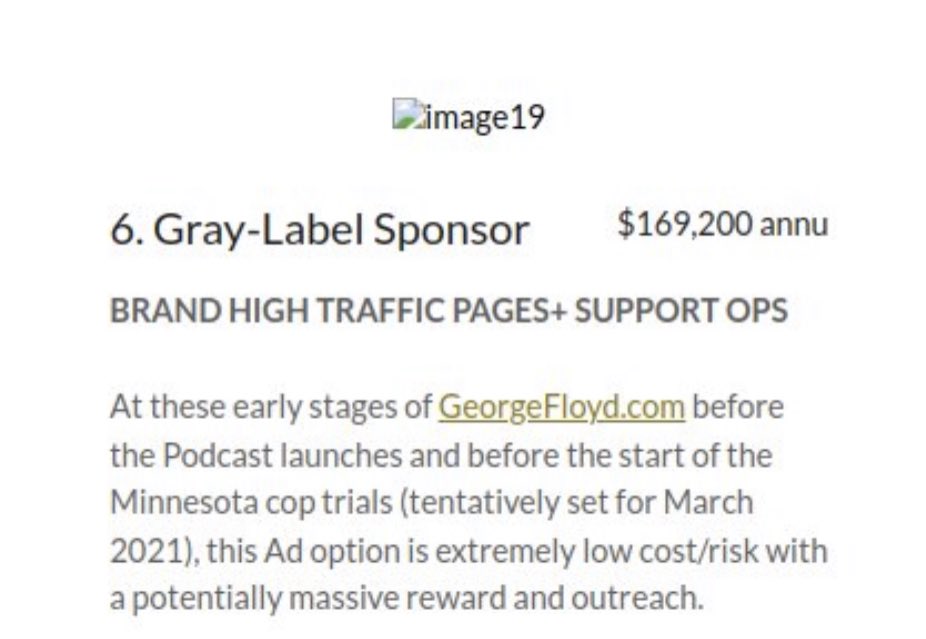 @Djamiempls, who is white, shared screenshots of direct messages she received from Medes requesting to interview her and other Minneapolis activists for her "book", and other context. "I would love to interview you for a book on the murder of George Floyd I am writing for the family," Medes wrote.
Medes' website also posted warm sentiments towards the police: "Any anti-police sentiment, any hint of general disdain for police" is listed in the section labeled "Out of Scope." Also included in fine print: "this website is a friend of our great police men and women of blue and we intend to draw out the dark, criminal element within their cultures and systems, without disparaging the position of police in whole… This is a pro change site, not an anti-police site."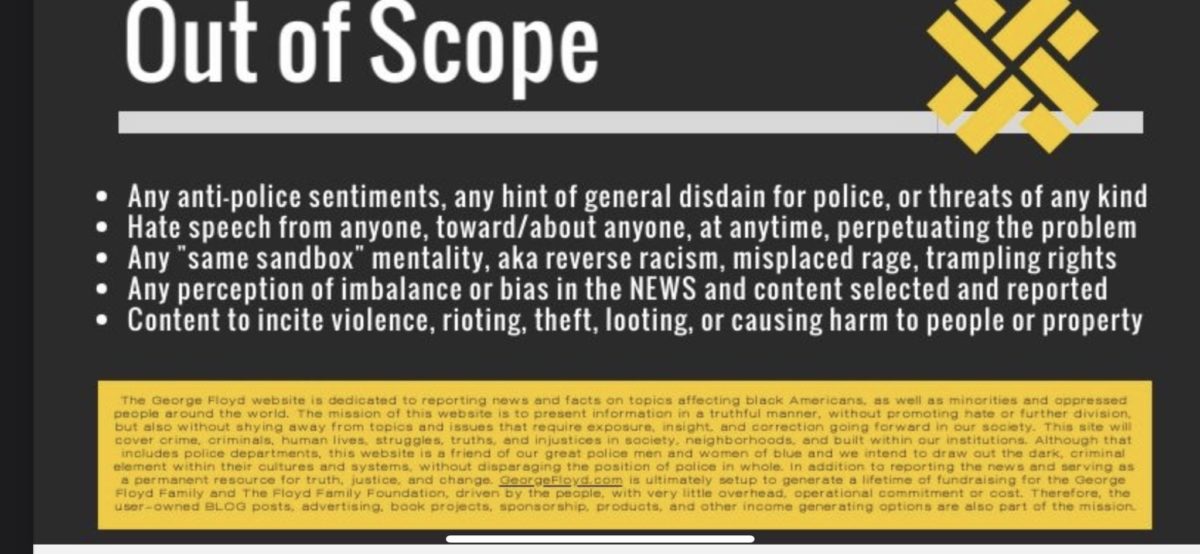 Gude also found a document showing that Medes was the owner of George Floyd LLC, which is registered in New Jersey (incorporated April 9 2021 according to New Jersey Treasury Department listings).
---
Medes defends actions in interview
Unicorn Riot contributor Marjaan Sirdar left a voicemail for the New Jersey entrepreneur. Medes returned the call and willingly participated in this interview, and agreed to an audio recording for accuracy; it went on for 45 minutes. Medes told Unicorn Riot she had recently been ill and briefly at the hospital due to dehydration. After the phone interview Medes retracted her statements and said she did not wish to be quoted directly because she did not want to be published in a "bad light."
In summary, Medes contradicted herself about how much money she raised off of George Floyd's name, how much of those funds went directly to Floyd's family and how much went to the community, and the source of funds raised. When asked why she gave more in donations to churches and activists than Floyd's family, according to her own account, she replied that it was a "business strategy" and "investment" that would later produce exponential returns for the Floyd family.
Regarding Floyd's family, Medes said she reached out to the family only after she registered the domain name GeorgeFloyd.com. She also admitted that she never actually spoke to a real person about getting consent but rather she received a voicemail from Crump's office. She said she was unable to play the message for us due to technical difficulties and refused to provide a copy, saying it was the most "valuable" thing she owns.
Additionally, Medes was not forthcoming about her staff or if she actually has had any staff at all. She said her website GeorgeFloyd.com was non-existent, although activists took several screenshots of it, and previous versions are available via Archive.org. (GeorgeFloyd.com was taken fully offline in recent days.)
The New Jersey businesswoman repeated that she had permission from the Floyd family to create GeorgeFloyd.com and the domain was procured for the exact opposite reason that people are accusing her of: so that no one would profit off the name, destroy the name or legacy, white wash the history, or make him sound like a drug addict and criminal. She said it was to essentially "protect the family and Black Americans."
Medes said that she had received numerous death threats while trying to run her business in the last two years and contacted the FBI multiple times, although she claimed she had not spoken directly with any FBI agents.
---
Posts spark accusations of racism
An Indiana-based Black writer who briefly worked for Medes tweeted in May 2022 that her motivations were suspect after an argument over the writer's "respect" for white women. The writer added, with a screenshot, that Medes privately called the "Writers and Editors of Color" (WEOC) collective, of which @SavvyWroteThat is a member, a hate group. The writer added that Medes had "target[ed] vulnerable people" in order to get "gig workers" aboard the project.
After people on Twitter accused Medes of "grifting," she responded in a post by calling critics "monkeys." This further inflamed activists who unfollowed her and blocked her account en masse.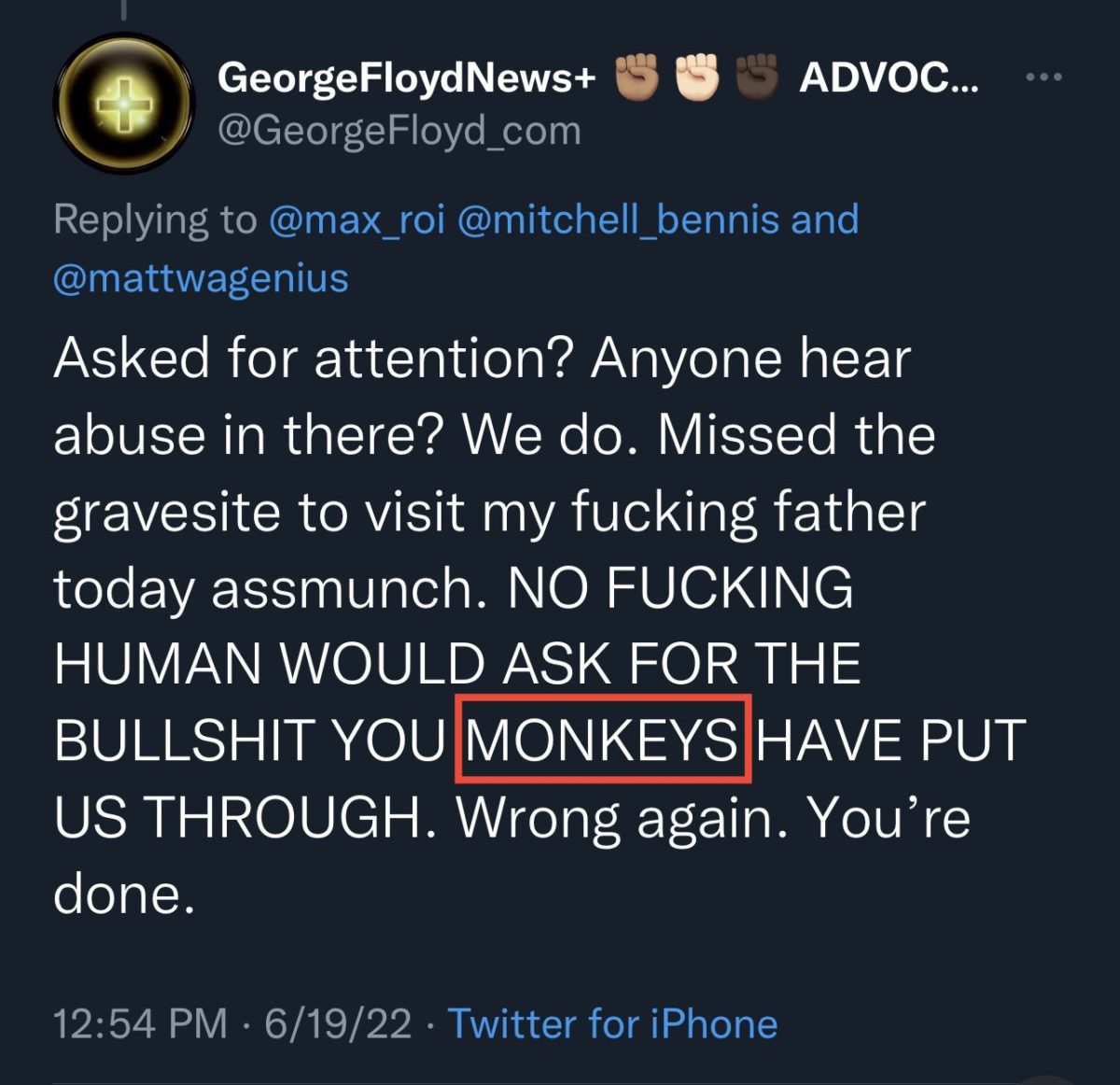 When asked to respond to critics who said she was racist after calling activists "monkeys," Medes said she did not know the word was a racist term. She said her comment was not racist but she regrets calling people monkeys. When pressed, as a 50 year old woman, on not knowing better than using a racially hateful term like "monkey," she doubled down, saying she doesn't hang around racists and therefore doesn't know their terminology.
Furthermore, Medes said that she was not referring to Black people so it's "impossible" for her to be racist.
Lauren Lopez, who worked on Medes' website for several months until last weekend, reflected on comments Medes sent about their children; with regret Lopez was trying to "understand how [they] overlooked" issues that surfaced while working with Medes. They added Medes recently described her critics as "animals" in a private message, and stated to Unicorn Riot:
"Suzanne followed me on Twitter and eventually pounced on me when I tweeted asking for mutual aid. Eventually her behavior began to resemble that of a domestic abuser: gaslighting, love bombing, threats and verbal abuse. All of her contributors feel stunned and humiliated by her actions. We hope to be able to raise money and contribute to the proper foundation for the Floyd family."

Lauren Lopez
Gude told Unicorn Riot, "I think it is absolutely disgusting that a white woman would use the death of a Black man to enrich herself. The death of a Black man that quite honestly deeply pained America, especially Black America," he said. "And more than anybody, it deeply pained Black people and activists in Minnesota."
---
George Floyd's aunt says no link to family
George Floyd's aunt, Angela Harrelson, who authored the book, Lift Your Voice: How My Nephew George Floyd's Murder Changed the World, told Unicorn Riot she did not know Medes was running a business and website with her nephew's name. Harrelson said she has never heard of Suzanne Medes or "George Floyd News", the name of Medes' Twitter account.
"I don't know what this is all about. Well, yes I do," Harrelson said. "It's about money. But me and the family have never heard of this woman."
Medes did not provide any evidence to Unicorn Riot supporting her claims about things like voicemails or emails from George Floyd's family or Ben Crump's law office. Unicorn Riot has reached out to The George Floyd Memorial Foundation and the law offices of Ben Crump but have yet to hear back.
Gude gave credit to Minneapolis Twitter for exposing Medes. @djamiempls also credited Minneapolis activists including @SimpleBoatMan and others for breaking this story. "People from elsewhere should watch how this went down. We've been through so much and have seen so much trauma… We don't need others contributing to it." She added, "Don't cross Minneapolis Twitter!"
The L.A. cop watcher who Medes tagged on Twitter to defend her had the most condemnatory words for her.
"I find her reprehensible. And I try not to talk about people that way, to be quite honest. But these acts are so incredibly selfish the way she's willing to trample on Black people and the memory of Black people to enrich herself. Honestly this is about as racist a thing I've ever seen. And she might not see herself as racist. In her mind she's probably thinking she's doing a good deed."

William Gude, @FilmthePoliceLA
---
Updated 6/26/2022: After Unicorn Riot's story was published, The George Floyd Memorial Foundation sent a statement to @MPLSKerrBear responding to inquiries about Suzanne Medes' affiliation with the family, which she shared on Twitter over the weekend. The Foundation confirmed that Medes contributed $1054.81, which is consistent with what Medes told Unicorn Riot, however, it stated that she has no official affiliation with the family, which is contradictory to Medes' claims posted online and repeated during our interview with her.
Per the message to KerrBear, the entire statement reads:
"Suzanne Medes has contributed a total of $1051.84 to the George Floyd Memorial Foundation. We invited donors to provide quotes for our Impact Report and she, under the name of Suzanne Simon, submitted a quote that was included in the report. She is not affiliated with our organization. We are incredibly thankful to everyone who has donated funds that enable the Foundation to achieve its objectives."

The George Floyd Memorial Foundation
Suzanne Medes has since rebranded her Twitter account with the name, JAG Joint Advocacy Journalist Authors Group, which appears to be a marketing website. Additionally, Medes abandoned the Twitter handle @GeorgeFloyd_com. The handle was acquired by Saint Paul resident @nowah, who tweeted saying that they would like to gift it to a legitimate relative or associate of the Floyd family. Medes switched her Twitter handle to @JAGJointAuthors and released a statement calling the "attacks" against her "illegal" and said she will eventually release a "rebuttal to all of the false claims and out of context lies published against this account and our team members."
---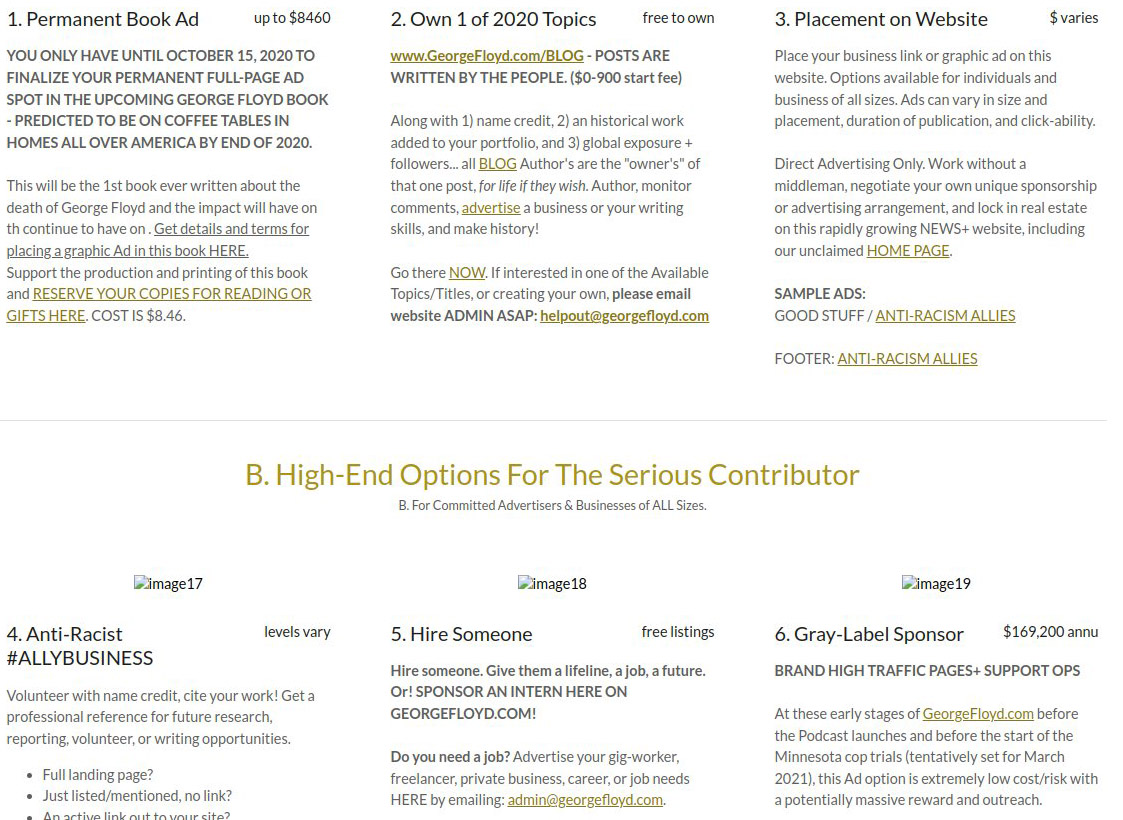 ---
About the author: Marjaan Sirdar is a South Minneapolis based freelance writer. He is the host of the People Power Podcast and author of the investigative series, 21st Century Jim Crow in the North Star City: How Target Corp., the City of Minneapolis, and Hennepin County, Created a Domestic Spy Program That Rolled Back Civil Rights On its Black Population, published by Unicorn Riot.
Cover composition by Dan Feidt; Photo by Niko Georgiades. Dan Feidt contributed to this report.
Unicorn Riot's George Floyd Coverage:
Please consider a tax-deductible donation to help sustain our horizontally-organized, non-profit media organization: